Click Here to Download PDF Version

Telehealth Newsletter
Official Newsletter of Tamil Nadu Chapter of Telemedicine Society of India
What is New?
The next annual conference of Telemedicine society of india – the 17th TELEMEDICON2021 will be held in hybrid mode at Lucknow from 12th to 14th November 2021.
TELEMEDICON this year takes special significance as it coincides with the 21st anniversary of our society which was formed in Lucknow in the year 2001. Prof. S. K. Mishra is the Chairman and Prof. P.K. Pradhan the Organizing Secretary for the meeting. You should register for the meeting by visiting https://www.telemedicon2021.com
The big event this month was the launch of the Health card by the GoI on 27th Sept, by our Prime Minister, Mr. Narendra Modi under Pradhan Mantri Digital Health Mission (PM-DHM). During the launch he said: "The drive to strengthen the health facilities of the country, in the last 7 years, is entering a new phase today. This is not an ordinary phase. This is an extraordinary phase."
Under this scheme, now every citizen in India will have a separate health ID. The Health ID will have a unique 14-digit health identification- for every citizen that will also work as their health account. This would help give a big boost to the 'Digital Health' in India. The key objectives are as follows:
The national Health ID will be a repository of all health-related information of a person. The health ID will enable access and exchange of longitudinal health records of citizens with their consent.
Healthcare Professionals Registry (HPR) and Healthcare Facilities Registries (HFR) that will act as a repository of all healthcare providers across both modern and traditional systems of medicine.
This health account will contain details of every test, every disease, the doctors visited, the medicines are taken, and the diagnosis. This information will be very useful as it will be portable and easily accessible even if the patient shifts to the new place and visits a new doctor.
The personal health records will be linked and viewed with the help of a mobile application;
Ayushman Bharat Digital Mission Sandbox, created as a part of the Mission, will act as a framework for technology and product testing that will help organizations, including private players, intending to be a part of National Digital Health Ecosystem become a Health Information Provider or Health Information User or efficiently link with building blocks of Ayushman Bharat Digital Mission.
This Mission will create interoperability within the digital health ecosystem, similar to the role played by the Unified Payments Interface in revolutionizing payments. Citizens will only be a click-away from accessing healthcare facilities
Thank You
Dr. Sunil Shroff
Chief Editor
President – TN Chapter – TSI
---
History of Telemedicine @ Apollo Hospitals India
Prof. K. Ganapathy
Former Secretary and Past President Neurological Society of India, Telemedicine Society of India & Indian Society for Stereotactic & Functional Neurosurgery | Hon Distinguished Professor The TamilNadu Dr. MGR Medical University | Member Roster of experts Digital Health WHO | Director, Apollo Telemedicine Networking Foundation & Apollo Tele Health Services | URL: https://kganapathy.in |Email: drganapathy@apollohospitals.com

Chronicle of events
Sep 16th 1996 – The compiler of this chronicle delivered an Institute Lecture @ IIT Kanpur at 8pm. . Prof K. Srivathasan then HoD EE introduced him to the word Telemedicine and persuaded him to jointly prepare a project report from 10.30pm to 4am immediately after the lecture !!!….Readmore
---
Informed Consent for Telemedicine
Anay Shukla
Founding Partner, Arogya Legal – Health Laws Specialist Law Firm
Eshika Phadke
Associate, Arogya Legal – Health Laws Specialist Law Firm
The Telemedicine Practice Guidelines specify that consent may be implied when a patient initiates a teleconsultation; however, there are certain situations wherein a doctor is legally required to obtain consent from the patient… Readmore
---
Problems that exists in Rural India to Adapt Telehealth
Ms. Saranya Gupta
Mentor: Manvee Bansal / Abhimanyu Rathore
Pathways World School, Aravali (IB)
Telemedicine has recently emerged and gained popularity as a new hope to remove the bottlenecks in the healthcare seeking. While telehealth technology and its use are not new, widespread adoption among patients, especially in rural areas, beyond simple telephone correspondence has been relatively slow…Readmore
---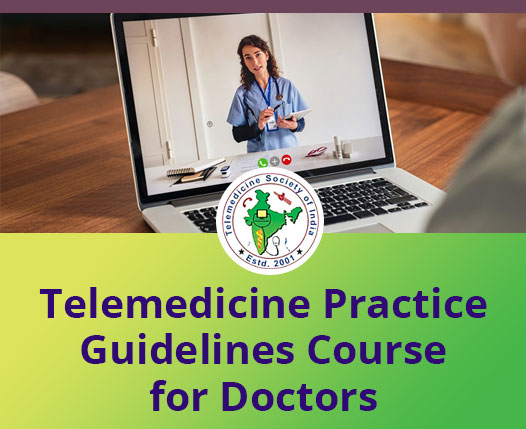 Telemedicine Practice Guidelines – A Foundation Course for RMPs by TSI
To know more about the Telemedicine Foundation Course click on the link below:
https://tsi.org.in/courses/
---
Telemedicine – News from India & Abroad
India
CoWIN develops API to track COVID vaccination status in India
First unveiled in January, the CoWIN portal has now launched a new feature called Know Your Customer's Vaccination Status (KYC-VS). Spotted by Republicworld, the new tool was announced by the Union Health Ministry of India on September 10. It will now enable companies to check the vaccination status of individuals via the official CoWIN portal. … Read More
Kotak, IISc to set up AI, machine learning centre in Bengaluru
Kotak Mahindra Bank and the Indian Institute of Science (IISc) on Thursday announced a partnership to set up an Artificial Intelligence & Machine Learning (AI-ML) Centre at the IISc campus in Bengaluru… Read More
94% Indian healthcare leaders want to invest in AI technologies: report
NEW DELHI : At least 94% of Indian healthcare leaders would most like their hospital or healthcare facility to invest in Artificial Intelligence (AI) technologies in the near future, the Future Health Index (FHI) 2021 India Report released by the Royal Philips a global player in health technology on Thursday, said… Read More
International
World's First AI Developed to Treat Covid-19 Patients Worldwide
Artificial intelligence (AI) has been used by Addenbrooke's Hospital in Cambridge along with 20 other hospitals from across the world and healthcare technology leader, NVIDIA, to predict Covid patients' oxygen needs on a global scale… Read More
AI Algorithm to Treat Psychiatric Illness, Stroke
Google and Mayo Clinic researchers partner to develop new artificial intelligence (AI) algorithms to improve brain stimulation devices to treat people with psychiatric illness and direct brain injuries, such as stroke… Read More
Study shows success of hybrid in-person, telemedicine model of vitreoretinal care
A hybrid model of patient care, combining telemedicine and traditional face-to-face visits, may offer the best of both worlds, minimizing the risk for disease transmission while maximizing practicality and patient safety… Read More
---
TN – TSI invites all the TSI Chapters and Members to submit information on their upcoming Webinar or Events (50 words), News related to Telemedicine (200 words) or short articles (500 words) for the monthly e-newsletter.
Guidelines for submission to TN TSI Newsletter-
Report can be from 500 to 600 words

Report Should be relevant to Telemedicine or Medical Informatics

No promotion of self or any product

Avoid plagiarism

All references should be included

Provide any attributions

Visuals are welcome including video links

Send full authors name, degrees, affiliations along with a passport sized photograph of good resolution. If multiple authors only main author photo to be sent.
Submission may be sent to – tsigrouptn@gmail.com
Editors reserve the rights for accepting and publishing any submitted material.
Editor in Chief – Dr. Sunil Shroff
Editors – Dr. Senthil Tamilarasan & Dr. Sheila John
Technical Partner- www.medindia.net