Telehealth Newsletter
Official Newsletter of Tamil Nadu Chapter of Telemedicine Society of India
TN – TSI invites all the TSI Chapters and Members to submit information on their upcoming Webinar or Events (50 words), News related to Telemedicine (200 words) or short articles (500 words) for the monthly e-newsletter.
Vision Centres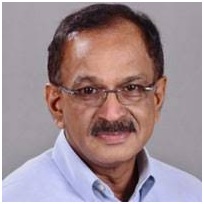 Dr. Kim Ramasamy
Aravind Eye Hospitals, Madurai

With over a billion people living with blindness or visual impairment due to preventable or treatable conditions, universal coverage for eye care is still a largely unmet need. This is especially because those who need care are in remote and rural locations where service delivery is a challenge.
Primary eye care remains a challenge especially because it has been difficult to provide comprehensive care for all the conditions encountered at the primary level. However, with the arrival of broadband internet, this has become a possibility. Vision Centres or primary eye care centres now provide comprehensive and complete eye care to the rural population.
Most notably, Aravind Eye Hospitals and LV Prasad Eye Institute in India have a large network of rural vision centres. This model is now being rapidly replicated by national and state governments.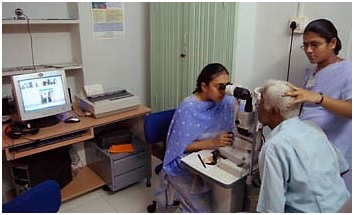 Comprehensive care: Patients who visit the vision centre receive a comprehensive eye examination by an allied ophthalmic personnel or vision technician. The technician captures the findings in a cloud-basedelectronic medical record – including any images of the eye. These records are accessed by an ophthalmologist at a secondary or tertiary eye care facility. The patient is able to have a teleconsultation immediately with the ophthalmologist, who gives the final treatment advice and prescription. The technician prints out the prescription and gives it to the patient along with counselling about the treatment.
Complete care:It is important that patients are able to act upon the doctors advice. So as to complete the loop,it is important that affordable spectacles and ocular drugs are made available at the vision centres itself for the patients. If the patient needs to be referred for higher levels of care, clear instructions and counselling needs to be given to ensure that patients act upon the referral.
Coverage:Each vision centre serves a rural population of 70,000-100,000. An estimated 30% of this population would need some form of eye care. Evidence shows that over four years 82% of those in need have been seen at the vision centres! This coverage is not only true at the level of gross patient numbers – but also for individual eye conditions too.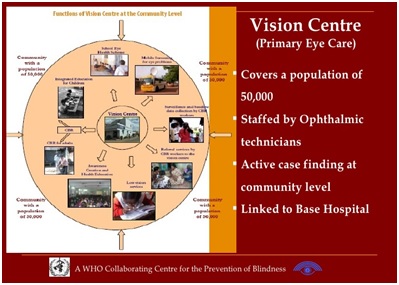 Vision centres, being closer to the community have a unique advantage to ensure treatment of chronic conditions are truly effective. Given that they are local to the patient, they are more accessible for regular follow up visits and can ensure patients stay on-track for their treatment. Aravind Eye Hospitals have ensured that patients with chronic conditions can procure medication and a patient registry helps to longitudinally monitor these patients over time.
The model has been successfully replicated and scaled up by other governments and NGOs in different parts of the Indian Subcontinent:
Aravind assisted the state government of Tripura to set up 40 vision centres across the hilly state of Tripura where access to health care is a major issue.

Aravind is also working with other state governments in India to replicate this model: so far, 10 centres have been set up in Chhattisgarh and 32 in Tamil Nadu, as pilot initiatives.

Aravind has helped the Government of Bangladesh set up 50 vision centres, with another 40 in the immediate pipeline. The commitment is to set up a total of 400 vision centres across the country.
A senior ophthalmologist at the State Blindness Control Society of Tripura observes how the tertiary government hospital at the capital city used to receive several patients with minor eye ailments. This not only meant that critical resources of the hospital were being used for minor treatment but also meant a great financial burden on the patients who travelled so far. But now, a much larger number of such patients are seen locally at the vision centres and only those with more complex eye conditions show up at the tertiary facility.
What does it take to set up a successful vision centre network?
Patient centric workflows

Comprehensive eye examination

One-stop services (eyeglasses, ocular drugs etc. should be made available)

Staff trained to provide high quality, patient centric care

Telemedicine consultation

Affiliation with a referral hospital

Strong monitoring system to ensure quality of care (patient feedback surveys)

Staff engagement, motivation and continuous education
---
Tele-ICU: Distance is not a real barrier for Critical Care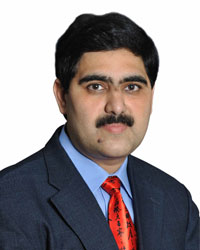 Dr. N. Ramakrishnan AB (Int Med), AB (Crit Care), AB (Sleep Med), AB (Obesity Med), MMM, FACP, FCCP, FCCM, FAASM, FISDA, FICCM
Founder & Managing Director, Chennai Critical Care Consultants & TACT Academy for Clinical Training Director, Nithra Institute of Sleep Sciences
What is TeleICU?
Tele-ICU or Tele-Critical Care is a customized solution for hospitals using technology to bridge experienced Critical Care Specialists (Intensivists) and nurses to monitor and support care for patients in the Intensive Care Unit (ICU). The Intensivists and nurses operate from a centralized monitoring center
What are the various models of care?
Remote monitoring is referred as 'continuous' when care is provided proactively round the clock usually from a centralized monitoring center (often referred to as 'Command Center").

Alternatively, 'episodic' care could be provided reactively 'on-demand' when the ICUs requiring support could request services as needed. With increasing use of smartphones and tablets, this model has been facilitated by specialized Tele-ICU applications (apps).

Tele-ICU rounds have been helpful in assisting ICUs. In this model the Intensivists remotely connects with the Doctor at the user end and is available to facilitate and discuss about patients and assist with care plans. Focused rounds for Nutrition support, implementing antibiotic stewardship are also an option with this model
 What are the advantages?
It is currently not feasible to staff every ICU with qualified Intensivists as they are far and few and mostly concentrated in tertiary care centers in larger cities. Tele-Critical care helps to reach specialized services anywhere, anytime.

Remote monitoring services have consistently shown to improve implementation of evidence based best practices

Monitoring by specialists has shown to improve outcome such as reduction of length of stay, implementing care bundles and reducing infections and also reducing mortality rate.

Hospitals have noticed that there is an increased retention of patients who would have otherwise been transferred out.
ICU care is complex – How can it be provided remotely?
Critical care involves several interventions by a multidisciplinary team. Most of these are 'cognitive' while some involve bedside procedures.

It is important to understand that the remote ICU model complements and does not replace the bedside team. The input from the bedside team is crucial for the remote Intensivist to provide input.

Specialist team of Intensivists, Physician assistants, Respiratory Therapists, Critical Care Nurses, Clinical Nutritionist & Pharmacist can remotely offer several cognitive inputs that could greatly benefit patient care. They need to closely interact with the bedside team to implement these decisions and also for any procedures that may be required.
Are TeleICU services available in India?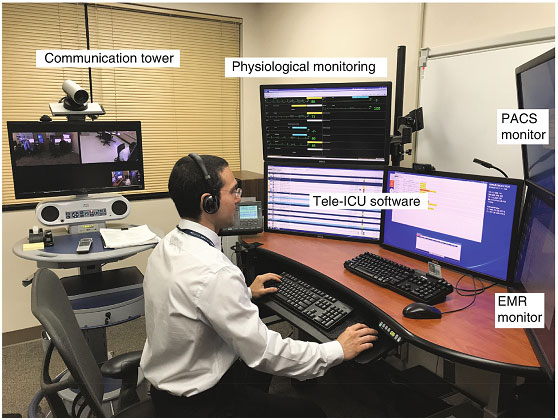 Chennai has been a leader in healthcare in our country and has several firsts to its credit. The first TeleICU anywhere outside the USA was a collaborative effort by Chennai Critical Care Services. We partnered with Advanced ICU Care, USA and started providing Tele-ICU for hospitals in America from 2010.
The fact that the first successful remote monitoring services in India were for ICUs in USA clearly confirms that distance is not the real barrier. We continue to provide these services successfully for over 10 years now.

Proactive continuous monitoring services in India were provided by us (InTeleICU™) and providers including Critinext. With the new telehealth policy of Ministry of Health, there is a scope for modified services particularly in a reactive episodic model to extend the outreach of specialized services.

We refer the readers to our recent article calling for an urgent action on Tele-ICU services published in Indian Journal of Critical Care Medicine cited below:
Ramakrishnan N, Vijayaraghavan BKT, Venkataraman R. Breaking Barriers to Reach Farther: A Call for Urgent Action on Tele-ICU Services. Indian J Crit Care Med 2020;24(6): 393–397.
---
Blockchain Use and Opportunity in Healthcare
Tory Cenaj, Founder, Partners in Digital Health, Publisher, BHTY
According to a 2018 a SERMO survey, physicians across all specialties lack awareness for  blockchain technology impacting healthcare providers and payers at institutions and clinical settings around the US.
47% of physicians polled have not heard of blockchain

25% indicated blockchain is ready to enter healthcare

28% reported blockchain was not ready to enter healthcare
In 2020, an American Medical Association (AMA) Survey reported:
Physicians weighed in on emerging technologies such as blockchain and augmented intelligence (AI), which is often called artificial intelligence. While 46% of physicians are familiar with the blockchain technology, 0% are using it.
Before we explore the potential applications for blockchain, let's first provide a top line definition for it. Blockchain is a shared distributed digital ledger technology (network platform), that securely facilitates interoperable data management and provides any original source of ownership, that can potentially transform healthcare. The technology is currently utilized in pilots and scaled ecosystems in healthcare around the wordto optimize business processes, lower costs, improve patient outcomes and enable better use of data interoperability.
Unlike traditional centralized databases, data on a blockchain can be distributed across multiple databases and computers (also known as 'nodes') so that everyone has the same version(or "ledger) of a process or transaction. 'Blocks' of data are linked together by a hash (a digital signature of random letters and numbers) that form a 'chain' of data containing a complete history of the performed transaction that cannot be changed – only added to, so it is considered "tamper resistant." Data is secured through cryptography (advanced encryption) for participants can trust the 'blocks' of data posted are authenticated and verifiable. These features result in decentralized data systems that are not controlled by a central authority that are usually vulnerable to breaches or points for failure. Blocks represent a single source of information all participants agree to as true, resulting in higher levels of trust by participants.
Applications and Studies
Blockchains offer the option to be permissioned/private or consortium networks, not open to the public but used by a group of participants to limit the participation and access to shared data, or they can be public blockchains.
The technology as an appropriate network sharing platform electronic health records to reduce errors and increase interoperability while preserving data privacy. It also enables analysis and payments for claims or contracts between provider, health system(s) and patients. Most physicians aren't aware of the efficient, error free utilization the technology provides – particularly since the onset of the Covid-19 pandemic has highlighted deficiencies in the marketplace.  To learn more, view articles below:
Blockchain technology can significantly reduce the cost and speed of clinical trials. This includes a shared data ledger, security of data,  patient recruitment and retention, interoperability between all devices used, efficient and validated clinical and patient data management and analysis, increased data integrity, and payment portals – all while reducing human error and increasing security. See the article below for more details.
Pharmaceutical supplies also include multidisciplinary stakeholders including manufacturers, wholesalers, packagers, logistics, regulators, hospitals, pharmacies and patients across countries creating a global ecosystem.Consider drug fraud, mismanagement, quality and safety. Blockchain resolves many supply chain challenges and provides cost efficiencies and faster turnaround. Tracking and tracing becomes seamless in a modernized system. Consider the publications below describing methodologies and pilots in more detail. We already find blockchain utilized in other industries.
Many breakthrough articles have been published in Blockchain in Healthcare Today (BHTY), the world's first open access peer reviewed journal that amplifies and disseminates distributed ledger technology research and innovations in the healthcare sector. We encourage authors to submit manuscripts and join the ecosystem. The journal is published on a continuous basis with a world-class peer-review board and registers original research article provenance on the blockchain. The journal is indexed in Science Open, Unpaywall, Google Scholar and the PKP Indexes.
The journal hosts the annual ConVerg2Xelerate (ConV2X) conference. Registration is open for the November 10 and 11 symposium with the theme "US -World Health Transformation." Attendance is free. For more information click here. 
---
India leads the world in Telehealth Cross-Sector Partnerships
Dr. William B. Eimicke is Professor of Practice and Director of the Picker Center for Executive Education at the School of International and Public Affairs at Columbia University. He retired from the FDNY as Deputy Commissioner for Strategic Planning and Performance Management and served as New York State Housing "czar" under Governor Mario M. Cuomo.  He is also the co-author of Management Fundamentals (2020) and Social Value Investing (2018), both published by Columbia University Press
 Adam Stepan  is the Director of the Picker Center Digital Education Group, and Adjunct Professor at the Picker Center. Adam oversees creation of online class materials and audiovisual case studies for the global EMPA program and works with SIPA faculty on the research and creation of audiovisual case studies.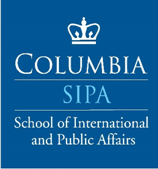 In 2014, my colleague Adam Stepan and I began a project to develop original video and written case studies for a new hybrid MPA at the School of International and Public Affairs (SIPA) at Columbia University. We focused on innovations in providing essential public services such as police, fire, education, sustainable agriculture and health care. After considerable research, our innovation in health care focused on telemedicine and electronic record-sharing identified India as being at the cutting edge of that innovation.
Our team then made several trips to India to meet with Dr. K. Ganapathy, film what was going on at Apollo Hospitals, look at the history of telemedicine and its future and then make what is now a widely used case film and written case study ( https://vimeo.com/200378894 ), comparing India to less advanced efforts in the United States and Brazil. The case study was presented and discussed at a major conference here at SIPA, appropriately simulcast to other experts across the global.
As we continued our research, we observed a series of emerging public-private partnershipsin India. By 2018, another colleague, Howard W. Buffett and I published what is now a very well-known book—Social Value Investing (https://www.sipa.columbia.edu/svi) which features an array of cross-sector partnerships called Digital India that developed from the earlier foundation by a  wide array of public and community partners.This this spring and summer, telemedicine emerged as one of the most effective tools in fighting the COVID-19 virus in the United States and now in India and other countries across the world.
For example, in New York City telehealth insurance claims have accounted for approximately 13% of patient activity compared to 0.15% only a year earlier, according to one monitoring organization. Another survey in April found 50% of responding patients said they were using telemedicine, many for the first time. Among doctors, 85% reported using telemedicine, compared to 25% at the end of 2019. A major heath care service provider, New York-Presbyterian reported that its telemedicine service use during the pandemic reached 70,000 cases per month and is continuing to rise steadily.
In India, Modi government sees Common Service Centres  as a cornerstone of Digital India, as they provide access points to every corner of India to the increasing number of services and assistance the government hopes will create a much more inclusive society that will improve the quality of life for India's very large population of poor families and individuals. Many organizations seethe program as an opportunity to do good while simultaneously attracting new customers and perfecting a new way of delivering medical services.
While the potential is great, this initiative is complex and expensive with a relatively high risk of failure. Indian telemedicine continues to face ongoing technical challenges: unreliable electrical supply, inadequate Internet bandwidth, video distortions, and software malfunctions. Even so telemedicine examinations provide reliable diagnoses for 80 percent of patients. Telemedicine examinations are generally videotaped (with permission of the patient), providing the physician with an opportunity to review, or "see" the patient again several times, to make sure the initial diagnosis was correct and that no important information was missed.
In the United States, major providers face challenges as well such as getting thousands of physicians, behavioral health specialists and office staff onto a telehealth platform and training them on how to use it. Also, many low-income patients had insufficient data plans and/or limited internet-connected devices. In some cases, this requires a regular phone call rather than a video chat. From a reimbursement perspective, health care providers are working to figure out how to incentivize the use of telehealth services while still covering their operating costs overall.
These partnerships of public and private organizations are providing potentially world-class health care for patients in urban and rural areas and even serving those with little or no income. Telehealth creates the opportunity to attract new patients, more easily offering virtual second opinions, more effectively treating addictions, improving management of chronic conditions and enhancing the lifestyle choices for doctors. In this COVID-19 pandemic, the telemedicine model developed in India helped hospitals in the United States and many other countries manage the burden on hospital emergency rooms, diagnosis and provide medicine to vulnerable patients unable or unwilling to leave their homes and ultimately help control the spread of the virus. Through the effort and expertise and hard, sustained work by several groups starting two decades ago,thousands of dedicated doctors, nurses and health care workers in India and the Indian government and its civil servants are now leading the way to a more affordable and accessible health care system for all. 
---
Telephone call for Tele-Consultation
(History and Evolution of Telemedicine – 2nd Milestone )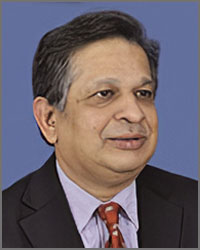 Dr.Sunil Shroff, MS, FRCS, Dip. Urol (Lond.)
President, Tamil Nadu Telemedicine Society of India, Editor, www.medindia.net,   Consultant Urologist & Transplant Surgeon, Madras Medical Mission Hospital, Chennai, India (shroffmed@gmail.com)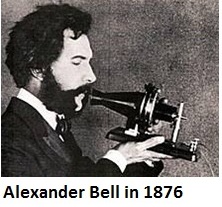 For doctors 'Tele-consultations' is nothing new. It started soon after the telephone was invented by Alexander Bell in 1876.Little do people know that the first call that Mr. Bell made was for medical help or for an emergency of sorts. Mr. Bell  called his assistant Thomas Watson and said:
"Mr. Watson, come here, I want you."
What had happened was that the sulphuric acid from the wet battery which was powering the telephone transmitter had spilled on clothes of Bell. And after the very first conversation on the telephone for medical help, Watson quickly appeared to administer the first aid.This first call on the telephone for medical help from Mr.Bell, was almost prophetic and 140 later, the mobile phones are now being considered to be the preferred device that will help provide universal and affordable healthcare to the people of the world.
Just two years after the invention of the telephone two letters to the editor appeared in the famous medical  journalLancet on 9 February1878, The first, from "A.B.M." of Hornsey suggesting that the telephone could improve medical diagnosis and that it might be specially useful in "demonstrating and studying the sound produced by a muscleduring contact, the negative contraction, etc." This way of listening-auscultation in medical terminology-could be done, according to A.B.M., by applying the electrodes (presumably of the telephone transmitter) directly to the muscle.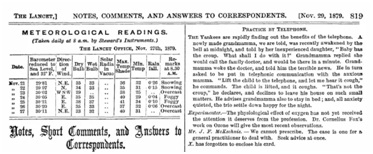 And on Nov'1879 another piece in Lancet spoke of Practice by telephone and its use that could bring down the visits to doctors clinics in the future.The commonest consultation on the telephone over the years perhaps has been – 'Doctor I have a headache, what can I do.'
Next issue: Read about Willem Einthoven and how ECG was transmitted over telephone lines.
---
Telemedicine – News from India & Abroad
India
Apple Watch Saves Man's Life
In India, the electrocardiogram (ECG) feature on Apple Watch has saved the life of a 61-year-old Indore resident. Apple CEO Tim Cook wished him fast recovery post-surgery.R. Rajhans, a retired pharma professional who uses an Apple Watch Series 5 …Read More
---
Younger and female doctors adopted telemedicine more during Covid in India, study says
More of the younger and female doctors adopted telemedicine or online consultations as a practice in India compared to male and older doctors in the June-July period this year, reveals a new study.A joint study by India-based healthcare research organisation Strategic Marketing Solutions & Research Centre (SMSRC) l…… Read More
---
India's Telemedicine Service Completes 5 Lakh Consultations
eSanjeevani, India's new telemedicine platform, has recorded five lakh teleconsultations. The last one lakh consultations were completed in a record time of 17 days.As a digital modality of healthcare services delivery ….. Read More
---
Telehealth Trains Parents to Improve Behavior Skills of Autism Kids
during the coronavirus pandemic or in other instances when in-person instruction is not possible, according to a Rutgers researcher.The study, which was published in The Journal of Applied Behavioral Analysis, broadens the treatment options for parents of children with autism who lack access to in-person training as they do now …. Read More
---
Demand for Telemedicine to Rise Post Covid-19: Survey
A survey on growth in telemedicine consultation in India since Covid shows that digital adoption of medicinal services grew three times during this period. According to the survey, conducted by DrOnA Health in collaboration with Mankind Pharma, 60% of respondents reported high satisfaction with telemedicine consultation…. Read More
---
DIVOC Health Set To Launch 20 New Telemedicine Laboratories In India By 2021.
India, October 2020: With a mission to create the most advanced digital diagnostic laboratory network enabling the connected world and to provide telemedicine and instant care, DIVOC Health launched its first, one-of-a-kind, technologically advanced DIVOC Laboratories in New Delhi in August 2020… Read More
---
International
New Tool Allows Easy, Effective Disease Tracking
New study used the novel IDseq tool to confirm and sequence the whole genome of the country's first case of COVID-19. The findings of the study are published in the journal GigaScience.This tool can distinguish pathogens before there is an available complete genome sequence…Read More
---
Telehealth Services: A Post COVID-19 Reality?
The regular use of telehealth services for cancer patients was found to have long-lasting and unforeseen effects on the provision and quality of care, said an article published in JAMA Oncology, Trevor Royce, MD, MS, MPH, an assistant professor of radiation oncology at the University of North Carolina Lineberger Comprehensive Cancer Center and UNC School of Medicine. Read More
---
Morneau Shepell launches unified telemedicine solution to enhance Canadians' total wellbeing
Morneau Shepell, Canada's largest provider of wellbeing and mental health solutions, has expanded into the rapidly growing telemedicine market to provide the employees of Canadian clients and their families with easier, more convenient access to digital health care services. . … Read More
---
StudyKIK Introduces Remote eConsent Technology Solution with Integrated Telemedicine Video Calling for Clinical Trials
StudyKIK, a full service patient recruitment & retention technology company headquartered in Irvine, CA announced today the release of their fully remote eConsent platform with Telemedicine Video Calling technology. Now, any sponsor who has provided their enrolling sites access to StudyKIK's…… Read More
---
Health Recovery Solutions Announces Lineup of Telehealth Experts for October Vision to Virtual Conference
Health Recovery Solutions (HRS), a national provider of Telehealth and Remote Patient Monitoring (RPM) solutions, is excited to announce its incredible lineup of speakers for the upcoming Vision to Virtual conference. From October 15 to October 16, HRS will welcome telehealth experts from across the healthcare industry including those from health systems,… Read More
---
The "Global Next-Generation Surgical Robotics Market: Analysis and Forecast, 2020-2030" report has been added to ResearchAndMarkets.com's offering.
The market size of next-generation surgical robotics was valued at $10.9 million in 2019. The global next-generation surgical robotics market is expected to grow at a robust rate. It is anticipated to reach $884.5 million in 2030 with a CAGR of 44.6% during the forecast period 2020-2030…Read More
TN – TSI invites all the TSI Chapters and Members to submit information on their upcoming Webinar or Events (50 words), News related to Telemedicine (200 words) or short articles (500 words) for the monthly e-newsletter.
Submission may be sent to – tsigrouptn@gmail.com
Editors reserve the rights for accepting and publishing any submitted material.
Editor in Chief – Dr. Sunil Shroff
Editors – Dr. Senthil Tamilarasan & Dr. Sheila John
Design – Sankara Nethralaya
Technical Partner- www.medindia.net