Click Here to Download PDF Version
Telehealth Newsletter
Official Newsletter of Tamil Nadu Chapter of Telemedicine Society of India
What is New?
This issue covers the highlights of the annual conference of TSI – TELEMEDICON 2021 that happened in Hybrid mode at Lucknow. Most registrations were for the online mode of the meeting.
The annual general body meeting and the elections too took place virtually. The new office bearers of TSI are as foilows –
President – Prof. Prasanta Kumar Pradhan
Immediate Past President – Colonel (Dr) Ashvini Goel (Retd)President
Elect – Dr. Meenu SinghVice President – Dr. R. Kim
Chief Operating Officer – Mr. B.S BediHon.
Secretary – Dr. Murthy Remilla. L.N
Jt. Secretary – Ms. Bagmishika Puhan
Treasurer – Mr. Repu Daman
Executive Members
Dr. K. Sudarshan
Dr. Umashankar
Dr. Uma Nambiar
Dr. Suchitra Mankar
Ms. Indiritta Singh D'Mello
Dr. Sunil Shroff
Dr. Krishnakumar
Thank You
Dr. Sunil Shroff
Chief Editor
President – TN Chapter – TSI
---

School of Telemedicine & Biomedical Informatics, SGPGIMS, Lucknow hosted the 17th International Conference of Telemedicine Society of India from 12th Nov. to 14th Nov. 2021. It was an annual conference of the Telemedicine Society of India being held every year in different parts of the country to create awareness, sharing new experiences and learning from each other in the field of telemedicine and digital health.First Day i.e. 12th Nov. 2021, the event started at 9.00 AM with welcome note of the Prof S.K. Mishra, Chairman, Local Organizing Committee, TELEMEDICON2021. First session was devoted only for beginners of Telemedicine where Prof. B.N. Mohanty, Prof. Jayant Mukhopadhya, IIT, Kharagpur, Prof. Meenu Singh, PGIMER, Chandigarh and other 46 National speaker, 20 Chairs & panelist shared their experiences…Readmore
---
Documentation for Teleconsultations
Anay Shukla
Founding Partner, Arogya Legal – Health Laws Specialist Law Firm
Eshika Phadke
Associate, Arogya Legal – Health Laws Specialist Law Firm
The legal significance of well-maintained medical records cannot be emphasized enough. Especially for telemedicine where the jurisprudence is still in its primitive stages, it is of utmost important for doctors to maintain detailed records of their teleconsultations.The Telemedicine Practice Guidelines 2020 specify the minimum information that must be documented in a patient's telemedicine records. In this article, we outline the mandatory information that should be recorded, as well as additional best practices to ensure maximum legal protection….Readmore
---
Promoting Telemedicine in Tamil Nadu
To promote Telemedicine, a hybrid program, themed "Telemedicine – the Untapped Potential" was organized by the Telemedicine Society of India (TSI) – TN Chapter, at The Tamil Nadu Dr. M.G.R. Medical University in Guindy, Chennai on November 19, 2021. This event was supported by TeleOphthalmology Society of India (TOSI) and Tamil Nadu Ophthalmic Association (TNOA)The online conference commenced with Dr. K. Selvakumar introducing the event and welcoming everyone. This was followed by brief lectures on History and Definition of Telemedicine by Prof. Dr. K Ganapathy; Modes of Communication, Bandwidth by Dr. S Dheeraj Krishnaa; and Mobile Health by Dr. Sheila John.. …Readmore
---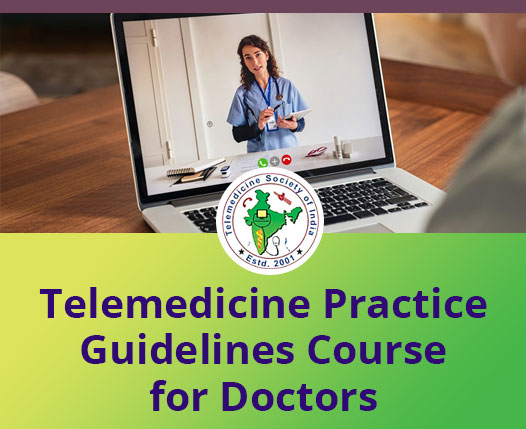 Telemedicine Practice Guidelines – A Foundation Course for RMPs by TSI
To know more about the Telemedicine Foundation Course click on the link below:
https://tsi.org.in/courses/
---
Telemedicine – News from India & Abroad
India
First step towards safer and efficient health records
The world is undergoing a tremendous digital transformation, much accelerated by the COVID-19 pandemic. Similarly, it contemplates providing a seamless flow of information through a digital healthcare infrastructure… Read More
Using Artificial Intelligence to Diagnose Blood Diseases
Artificial intelligence has the potential to boost the method of diagnosing blood diseases using optical microscopes, according to a finding in the journal Blood. Every day, cytologists around the world use optical microscopes to analyze and classify blood cells…. Read More
International
New Robotic Device Improves Health Rehabilitation
A robotic device is developed by Inrobics that provides an innovative motor and cognitive rehabilitation service that can be used at health centers as well as at home. The entrepreneurial team has developed a platform made up of four elements…. Read More
Brain Diseases can be Detected by Eye Movements
Using artificial intelligence (AI) to develop an eye tracker that analyzes images from MRI brain scans to recognize patterns that are shared across people is developed by scientists… Read More
---
TN – TSI invites all the TSI Chapters and Members to submit information on their upcoming Webinar or Events (50 words), News related to Telemedicine (200 words) or short articles (500 words) for the monthly e-newsletter.
Guidelines for submission to TN TSI Newsletter-
Report can be from 500 to 600 words

Report Should be relevant to Telemedicine or Medical Informatics

No promotion of self or any product

Avoid plagiarism

All references should be included

Provide any attributions

Visuals are welcome including video links

Send full authors name, degrees, affiliations along with a passport sized photograph of good resolution. If multiple authors only main author photo to be sent.
Submission may be sent to – tsigrouptn@gmail.com
Editors reserve the rights for accepting and publishing any submitted material.
Editor in Chief – Dr. Sunil Shroff
Editors – Dr. Senthil Tamilarasan & Dr. Sheila John
Technical Partner- www.medindia.net