Invitation
Program Schedule
Brief Report
Program Schedule
3rd Workshop on Telemedicine Brief Report


Program Schedule
9.00 AM
Inauguration- Prayer Song
9.05 AM
Lighting of Kuthu Vilakku
9.10 AM
Welcome Address
Dr.Kavitha Balamurgan, Head /ECE
9.15 AM
Overview of the program
Dr.V.Thulasi Bai,Professor /ECE
9.20 AM
Felicitation
Dr.G.Prabhakaran, Principal, KCG College of Technology
9.25 AM
Keynote Speaker 1
Dr.T.Senthil ,
CEO,Welcare Health Systems,
Honorary Secretary, TSI-TN
9.30 AM
Keynote Speaker 2
Prof. Dr. S.Natarajan,
Chairman & Managing Director
Aditya Jyot Eye Hospital,Mumbai President ,
All India Ophthalmological Society
9.45 AM
Keynote Speaker 3
Dr. Sheila John Professor of Ophthalmology,
Sankara Nethralaya
Executive Committee Member,TSI-TN
9.55 AM
Vote of Thanks Mr.Sadasivam S, AP/ECE
10.00 AM
Break
Brief Report
3rd Workshop on Telemedicine

3rd Workshop on Telemedicine was organised by Telemedicine society of India-TN Chapter (TSI-TN) hosted by CoE in KCG-BOSCH, Department of ECE, KCG College of Technology on 24th August 2019 at F-14 Seminar Hall.
| | |
| --- | --- |
| Lighting of Kuthu Vilakku by Dr.T.Senthil and Mr.D.Satheesh Kumar | The inauguration started with prayer song at 9.00 AM. The workshop was inaugurated through traditional lighting of Kuthuvillakku by the dignitaries of TSI-TN and KCG College of Technology. |
| | |
| --- | --- |
| Dr. Kavitha Balamurugan, Head, ECE department welcomed the gathering. | Dr. Kavitha Balamurugan welcoming the gathering |
| | |
| --- | --- |
| Dr.G.Prabhakaran, Principal Felicitating the Workshop | Dr.V.Thulasi Bai giving the Overview of the Workshop |
Dr. G. Prabhakaran, Principal, KCG College of Technology mentioned about the need of telemedicine during his presidential address. Dr. Thulasi Bai, Professor, ECE Department gave the overview of the workshop.
During the inauguration Padma Shri. Prof. Dr S. Natarajan, Chairman & Managing Director, Aditya Jyot Eye Hospital, Mumbai and President, All India Ophthalmological Society addressed the gathering about AIOS STOP BLINDNESS – Screening through Teleophthalmology to prevent Diabetic Blindness through Skype.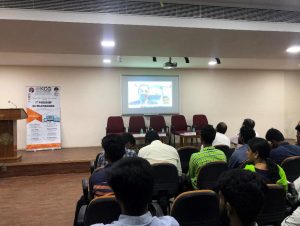 Dr. T. Senthil CEO, Welcare Health Systems, Honorary Secretary, TSI-TN briefed about the activities of the TSI-TN and telemedicine in general. Dr. Sheila John, Head of Teleophthalmology, Sankara Nethralaya, Executive Committee Member, TSI-TN talked about the importance of Telemedicine. Mr. Sadasivam S, Assistant Professor, ECE department thanked the gathering and the inauguration came to an end by 10.00 AM.
After the inauguration the following speakers delivered their speech to assure the participants the best experience about the Telemedicine.
Speakers

Topic

Dr.T.Senthil Delivering his speech

Dr. T. Senthil

CEO,Welcare Health Systems

Honorary Secretary, TSI-TN

Tele-Ophthalmology for Blindness Prevention

Dr.Sheila John giving her presentation

Dr. Sheila John

Head of Ophthalmology, Sankara Nethralaya

Executive Committee Member,TSI-TN

Role of Tele-Ophthalmology in Sankara Nethralaya

Dr.Ikramullah's session

Director ,Ikram Hospital, Vaniambadi

Vice President, TSI-TN

Artificial Intelligence, Augments & Accelerates – Tele Health Services

Mr.Ashwin Desai giving his speech

Mr. Aswin Desai

Managing Director, Arogyayati Pvt. Ltd.,

Executive Committee Member ,TSI-TN

Technology in Telemedicine

Dr. Prachee Sathe

Director – ICU, Ruby Hall Clinic, Pune

Executive Committee Member ,TSI

Tele-Intensive Care Unit Practice (through Skype)

Mr.Manick Rajendran interactive session

Mr. Manick Rajendran

CEO, iMMi Life Healthcare Pvt.Ltd., Chennai

Honorary Joint Secretary, TSI-TN

Tele-Cardiology
The workshop was attended by around 20 participants (Students and faculty) from various colleges. The 100 third year students of KCG college of Technology who took the subject Electronics & Communication Engineering, Biomedical also attended the workshop and benefitted.

Participant's interaction with the Guest Speakers

Dr.Sheila John giving her presentation

Dr. Thulasi Bai, Professor, ECE Department, KCG College of Technology organised and coordinated the workshop. Mr. D. Satheesh Kumar, Senior Engineer – Telemedicine, Sri Ramachandra University, Executive Committee Member, TSI, Treasurer, TSI-TN Co-coordinated the workshop.

Participant's interaction with the Guest Speakers

Mr.Manick Rajendran interactive session

Mr.Manick Rajendran giving certificate to the participant from RMK Engg College

The participants were given certificates and the workshop received good feedback from them. The workshop came to an end by 3.30 PM. The workshop was a great success and the organising committee thank the TSI-TN and Management of KCG College of Technology.

Guest Speakers honoured with Memento

Dr.T.Senthil giving certificate to the Participant from Dhanalakshmi College of Engg

Invited Guest speakers with Dignitaries of KCG College

of Technology

Group Photo