President
President Elect
VICE-PRESIDENT
Hon Secretary
Jt. Secretary cum Treasurer
Executive Members
President

Mr. VIMAL WAKHLU
President, Telemedicine Society of India (TSI) 
Former Chairman & Managing Director,
Telecommunications Consultants India Limited,
( A Government of India Enterprise )
Mr. Vimal Wakhlu is the former Chairman & Managing Director of Telecommunications Consultants India Ltd.(TCIL),a Government of India Enterprise.
A Bachelor of Engineering (B.E.) from National Institute of Technology, Srinagar 1977, and MBA Marketing from IGNOU, he has more than 39 years of experience in the field of Telecom and Information Technology, including e-Networks, Mobile, Satellite, Microwave, Troposcatter, Co-axial, Optical Communications, Maritime Communications, International Telephony, Data and Multimedia Transmission.
Starting his career with NHPC in 1977, followed by Overseas Communications Services (later VSNL and now Tata Communications Ltd.) till 1983, he held various positions in DOT (Department of Telecom) from 1983 to 2000 and BSNL from 2000 to 2006, including Director Satellite Maintenance, Western Telecom Region, and General Manager Mobile Services in Maharashtra and the North East Circles.
He has been involved in TCIL in various capacities From December 2006 till January 2016, including Executive Director (Transmission) and Director (Technical) and Chairman & Managing Director. TCIL has scaled new heights during this phase, besides bagging some large value global and domestic projects.
He has been instrumental in the successful implementation of the prestigious Government of India's Pan African e-Network Project, a project envisioned by Dr. APJ Abdul Kalam, the Former President of India, providing a platform to 48 nations in Africa to India for Education and Health Services.
He has served as Director on the Boards of TTL (Tamil Telecommunications Limited) and TBL International, TCIL Saudi Ltd., Bharati Hexacom Limited.
He is a Certified Project Management Professional (PMP) of the Project Management Institute (PMI) of the United States
A Life Member and current President Elect of The Telemedicine Society of India .
A Life Fellow of IETE (Institution Of Electronics and Telecom Engineers),Member of TRAC committee.
A member of the ITU APT Foundation of India and its Vice President.
A Member of IEEE (Institution of Electrical and Electronics Engineers).
A Member of Broadband India Forum(BIF).
A Member of PTCIF(Pacific Telecommunications Council India Foundation) and its current Vice President
He has been a Visiting faculty on Business of Telecom Management in Narsee Monjee Institute of Management Studies (NMIMS), and Advanced Mobile Communications, Satellite and Optical Fiber Communication in University of Mumbai, Pune University and Advanced Level Telecom Training Centre (ALTTC).
He has been participating in panel discussions on various fora, on a wide variety of subjects, including Education, Health, Disaster Management, Financial inclusion, Environment, Energy Management, Security, Governance, Telecommunication and Information Technology. His specialization is in leveraging technology for mitigating challenges faced by underprivileged people of developing nations.
Currently a freelance Consultant advising companies on Technology transfer and some of the state governments on Project/Program Management.
A Member of Working Groups on United for Smart Sustainable Cities (U4SSC) initiative of ITU (International Telecommunications Union)-UNECE (United Nations Economic Commission on Europe)
President Elect

Maj Gen AK Singh (retd)
MBBS, PhD ( Medical Informatics)
Advisor, Telemedicine and Health Informatics
Mahatama Gandhi University of Medical Sciences and Technology
He has served in the Indian Army for 38 years. He served as Commanded (Medical Superintendent or CEO equivalent) Field Hospital in Srinagar, J&K, Military hospitals in Pithoragarh, Uttaranchal, Jabalpur, Udhampur. He was in charge as Commandant of Officers Training College at Army Medical Centre, Lucknow responsible to impart military training to young civilian doctors, senior medical officers and paramedics. He has retired on 31 Dec 2012 from the Army as Major General (Medical) in charge of 37 hospitals in South Western Command. He did his Schooling from St Xaviers High School, Jaipur from 1957 to 1968, completed his Medical education from Armed Forces Medical College, Pune from 1974. He is PhD in Medical Informatics and Community Medicine from Linkoping University, Sweden.

Presently he is advisor in Telemedicine to Mahatama Gandhi Hospital for restarting Rajasthan Govt. telemedicine Project in 33 district hospitals as a PPP model. Recently established a Department of Health Informatics in the university.
Area of interest
Rural health through Telemedicine. 

Presently Advisor in Health Informatics to Mahatma Gandhi University of medical sciences and technology, Sitapura, Jaipur.

Running Bsc Hospital and Health information administration course.
VICE-PRESIDENT

COLONEL (Dr) ASHVINI GOEL (Retd.)
MBBS, MPhil (HHSM), MBA (HCA), DPM, DNACS, HDSE, DCS
Member of a number of committees for development of eHealth and Telehealth activities in India. Member of National Task Force on Telemedicine Network Grid, National eHealth Authority and India Health Information Network constituted by Ministry of Health and Ministry of IT. Health Informatics Sectional Committee for BIS Standards.
Founder Member of Telemedicine Society of India (TSI). Currently Vice President of National Executive Committee of Telemedicine Society of India. Convener and Secretary of TSI NCR Chapter. Organising Secretary of TELEMEDICON 2019, the 15th International Conference of Telemedicine Society of India.
Past Secretary of National Executive Committee TSI and Vice President Rajasthan Chapter of TSI.
Member International Society for Telemedicine & eHealth (ISfTeH).
Academy of Hospital Administration (AHA)
Conceptualization and raising of Project Management Organisation Healthcare Information Services (PMO HIS), for comprehensive automation of Armed Forces Medical Services.  Implementation of Networking Project of Army Hospital (Research & Referral). Implementation of Pilot Project for Telemedicine for Indian Army under aegis of ISRO, Deptt of Space. Implementation of project for Mobile Telemedicine in Combat Scenario.
External Assessor for Quality Assurance of Healthcare Establishments: National Quality Assurance Standards (NQAS), Min of Health & Family Welfare
Hon Secretary

Prof. Prasanta Kumar Pradhan
Dr Prasanta Kumar Pradhan is currently working as Professor in Nuclear medicine at Sanjay Gandhi Postgraduate Institute of medical sciences(SGPGIMS),Lucknow.He completed his medical school from VSS Medical college,Burla,Odisha in 1987 and subsequently done M.D in Biophysics from prestigious All India Institute of Medical Sciences(AIIMS),New Delhi in 1992.Subsequently,received his Diploma in radiation medicine from Radiation medicine center,BARC,Mumbai in 1994 and Diplomate in National Board(DNB) in Nuclear medicine from National Board of Examinations,New Delhi in 1995.He is recipient of Common wealth fellowship in U.K in Nuclear cardiology in 2005 and best clinical paper award from Society of Nuclear medicine,India in 1997.He is fellow of Asian Nuclear medicine Board(FANMB), member of many nuclear medicine societies in the world like,Society of Nuclear medicine and molecular imaging,USA,European Association of Nuclear medicine,Europe.He has published many international and national publications and also in editorial board and reviewer of many national and international journals.He is currently academic and technical expert to all Institutions of national importance like AIIMS,New Delhi,PGIMER,Chandigarh,JIPMER,Puducherry and Regional cancer centers.He is also a visiting faculty to many universities abroad like Emory university ,USA,Ohio state university,USA and USM,Malaysia.His major interest is in utilization of radioisotopes treatment of noncancerous and cancerous disease conditions .He is also actively utilizing telemedicine technology in continued care of thyroid cancer and neuroendocrine tumor patients for consultation and follow up since last decade. Dr Pradhan has leadership role being past President of Society of nuclear medicine,India and currently senate member in Asian Regional Cooperative Council of Nuclear medicine ( ARCCNM,) Korea and his mission is educating the members in adaptating to newer radioisotopic procedures for diagnosis with hybrid imaging with SPECT-CT,PET-CT and PET-MRI as well as receptor based radionuclide therapy through continued education among its members globally and physician and surgeons of our country for better standard of care for the patient .He intends to have national and international societal partnership in telemedicine for harmonization globally.
Jt. Secretary cum Treasurer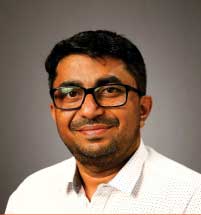 Dr. Sanjay Sharma
Jt. Secretary cum Treasurer
Dr. Sanjay Sharma, a practicing Podiatric Surgeon (Food Surgery) in Bangalore specialised in Diabetic Foot Conditions, he has 16plus years of experience in the healthcare management and healthcare technology industry, across various segments including Hospitals & Clinic Chains, AYUSH, Telemedicine (eHealth, Mhealth), Population Health Management, Health Care Economics, Public Health and Diabetes Care.
His present interests are focussed on Telemedicine eHealth, IoT, Affordable & Connected Medical Wearable Devices, Tech-Enabled Patient Education, Care Management Services, Therapeutic and Diagnostic Devices for Foot Conditions and AYUSH.
After completing His Bachelors, He pursued his Master in Surgery, Rajiv Gandhi University of Health Sciences, and pursued his Ph.D. in Ayurveda from the University of Pune. He completed his training in Podiatry at Banner Hospital, University of Arizona, Tucson. He has also completed management program (MPEFB) from the prestigious Indian Institute of Management, Bangalore, and MDP programs in Hospital Management from AIIMS – New Delhi and IIM Ahmedabad.
Dr. Sharma is the Board Member of Telemedicine Society of India and also the Secretary of Telemedicine Society of India, Karnataka Chapter He is presently a visiting professor in Department of Surgery, at RGUHS, Bangalore; He has successfully built and exited two startup's and is presently the founder of 3 companies, namely – APTA Healtthcare Advisers Pvt. Ltd, Yostra Labs Pvt. Ltd, Vital Sense Pvt. Ltd.

He is a Mentor and Investor at PeopleHealth Pvt. Ltd and also the Chief Medical Officer for Noora Health. Previously he has been associated with Healthways Inc., GMR Infrastructure, Ricoh Innovations & Diabetacare.
The technology process that he along with his team at Neurosynaptic Communications developed for telemedicine consultations in primary care, won them the technology pioneer award in 2008 by the World Economic Forum. He holds multiple patents in Remote Healthcare Delivery, Diabetes Monitoring, Diabetic Neuropathy Screening & Warm Oxygen Therapy in Ulcer Healing.
Executive Members
| | |
| --- | --- |
| | Mr. Virender Kumar |
| | Mr. Murthy Remilla L.N. |
| | Mrs. Prachee Sathe |
| | Dr. Dhananjay K. Mangal |
| | Dr. Sibananda Mohanty |
| | Mr. Repu Daman |
| | Mr. D. Satheesh Kumar |