Telehealth Newsletter
Official Newsletter of Tamil Nadu Chapter of Telemedicine Society of India
TN – TSI invites all the TSI Chapters and Members to submit information on their upcoming Webinar or Events (50 words), News related to Telemedicine (200 words) or short articles (500 words) for the monthly e-newsletter.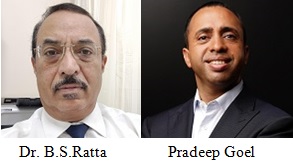 Blockchain on the Horizon for Better Telehealth Solutions
Dr. B S RATTA
Paediatric Surgeon and Urologist, Certified Robotic Surgeon, Ruby Hall Clinic Pune, Fellow Institute of Child Health London, Fellow Texas Children's Hospital Houston, Trustee Connecting, Past President TSI, Past President TSI Maharashtra, Past Chairman IAeHC, Past President Rotary club of Pune Riverside


Pradeep Goel
CEO SolveCare, Past CEO,COO,CIO,CTO, Innovative Technology Co.s, Programme designer Medicare,Medicaid, Entrepreneur of 4 Health IT C
"The science that we work with today must have the innovativeness, foresight and the vision for it to be the centre of technology that we develop tomorrow. In whatever field we work, we have to remain in the service of the common man whose well being is central to all human knowledge and endeavour."
– Dr. APJ Abdul Kalam
Covid19 has put global economy into a tail spin. There is a big shift taking place in the healthcare industry. Blockchain can create massive social impact in crisis like Covid pandemic. With remote access and telehealth services being sought after to tackle issues such as hospital overcrowding and social distancing, accessibility to digital solutions is more important than ever. However, teleconsultations not only require remote access but a secure way of transferring information from patient to doctor and doctor to patient. This, coupled with the growing usage of mobile health and remote monitoring devices, presents an opportunity to leverage blockchain technology.
Blockchain, at its core, is an infinite and immutable data ledger. The data on a blockchain is stored and repeated onto different unrelated nodes creating a decentralized database that cannot be altered or controlled from any one node. A strict record-keeping technology that provides transparency and auditability by design adds more levels of oversight where issues can be quickly flagged.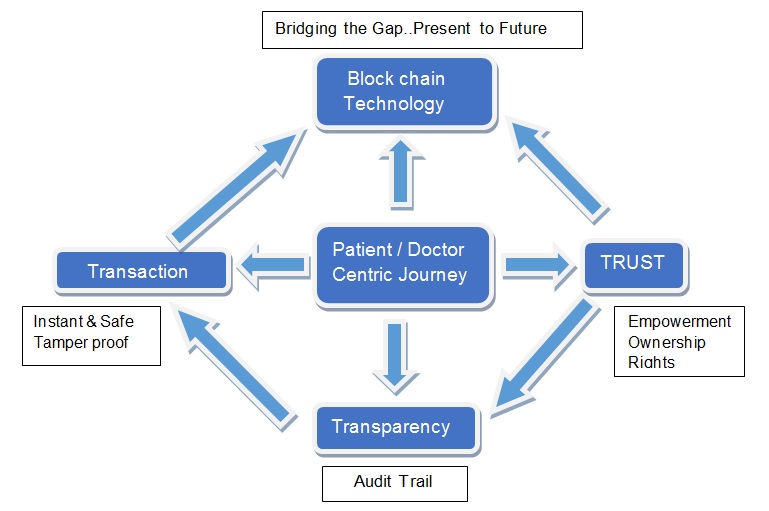 Imagine a patient record in hospital or clinic which is written by an indelible ink and is password protected, records names of everyone who has opened ,edited the file is available anywhere, anytime anyplace. It can also integrate data from all types of healthcare services and thousands of healthcare ecosystems working in silos ,like Drs, hospitals, clinics in compliance with strict data privacy regulations.
The emergence of technologies such as blockchain is a game changer for the healthcare industry. This sunrise industry is a market disruptor, Telehealth solutions can be developed to allow for the provision of functionalities and services that are able to assist in making healthcare providers and their work more autonomous. When blockchain technology is used in conjunction with telehealth, it can create the most efficient possible interaction between patients and doctors, ensure the security and privacy of patient data, and most importantly, uphold the sovereignty of physicians.
The true revolutionization of healthcare brought about by implementing blockchain solutions is the ability to empower patients to make better-informed decisions, making the healthcare journey a more patient-centric one. Furthermore, such solutions can automate the enforcement of patient rights and privacy, while providing ownership over their own healthcare data. Data security and control are increasing concerns to patients around the world. Blockchain also allows, with patient consent, for doctors to immediately access a patient's past medical records, reducing wasted time conducting repeat assessments and unnecessary medical tests. A patient retains access to their segment of data on a blockchain and retains the permission to revoke or track access to that data at all times. Patients don't have have to entrust the safety of their information to institutions, or any other 3rd party that can be bogged down by having to track thousands, or millions, of patients' data. This change in how we handle patient data will enhance our abilities in delivering better continuity of care and thereby improve patient outcomes.
The integration of blockchain technology with telehealth services gives us the opportunity to provide real-world solutions that break down barriers between patients, doctors, and institutions, while increasing accessibility and reducing inequality in healthcare. These solutions should be designed to meet the needs of doctors and patients alike, whilst minimizing paperwork and bureaucracy and respecting the rights and privacy of both parties. The need for greater patient empowerment and respect for the sovereignty of physicians has never been more pronounced. Access to quality healthcare should not be restricted by geographical, societal, or administrative barriers.
This is one of the great opportunities of our time, and it is up to us in the medical profession to ensure it reaches its full potential for the benefit of those who depend on us for their healthcare.
---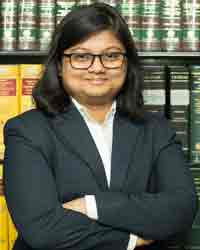 Privacy and Digital Health in India
Bagmisikha Puhan, Member, EC – TSI
Associate Partner, TMT Law Practice, C-2/39 | Safdarjung Development Area New Delhi – 110016 | India.
The digital health ecosystem in India found a fillip last year, and ever since, the industry has been generating and consuming large volumes of personal as well as sensitive personal data. This has led to increasing concerns amongst the end users who are submitting their data to the digital platforms who are facilitating remote delivery of health care services and are fostering continuity of care.
With a rise in the number of people opting for at-home diagnostic services, and a rise in the number of tele-consults which are being opted by the end users, there is a pressing need to address the inadequacies of the present data privacy framework. While the present framework outlines the basic requirements, which are essential for compliance, they do not provide sufficient safeguards for the protection of all the information which is flowing through the entire ecosystem.
Simply put, while the Telemedicine Practice Guidelines (TPG) have provided a basic guiding element with respect to the procedure to be followed to preserve privacy of a patient, they do not provide a framework within which the same must play out. Additionally, the TPG carries a template for prescription, and the identifiers that can be captured therein, are extremely exhaustive in nature, and may lead to complete disclosure of a patient's health and medical information when it is being shared on a third-party digital platform or is being shared with a pharmacy. Issues around this will continue to influence the minds of the consumers who are willing to realign their preferences with the digital world. As a consumer intends to move towards a digital based ecosystem, they might find the lack of a comprehensive legislation under which they can seek redressal, unsettling, which in turn will deter the geometric flourishing of the entire sector.
Under the pending Personal Data Protection Bill (PDP Bill), the entire life cycle of a person's health information is being captured. As it is oft-put, digital health ecosystem has built a situation where the entire life cycle, that is the journey from the womb to the tomb, can be mapped out by the information fed to the digital systems. The PDP Bill promises safeguards and accounts for scenarios which are related to emergency situations, as well as continuity of care.
To surmise, the PDP Bill premises itself upon a nearly homogenous ecosystem, which is also allowing for interoperability. This is being supplemented by the expected National Digital Health Mission (NDHM), and the policies issued thereunder. The PDP Bill in conjunction with the NDHM will be in a position to bring in a certain degree of uniformity in the compliance conditions, in re the expected behavior on the part of the healthcare organizations, healthcare providers, and will also clarify on the obligations that the data subject is to be comply with. While the entity which seeks information is expected to ensure that the data available with them is accurate and updated, the onus in provisioning of such information is on the data subject or the patient who has to ensure that they are providing the information which is commensurate and essential for the healthcare service provider to address the concerns and medical situation of the patient.
The PDP Bill features exceptions whereby sensitive personal information of a person may be processed without the explicit consent of the patient for scenarios where vital interests of the end users must be preserved. The extreme caution and safeguard afforded to the elevated status of sensitive personal information are with the view that the end user must not be discriminated against on the grounds of any inherent bias or prejudice on the basis of inappropriate or unauthorized usage of sensitive personal information. It is with these concerns in mind that service providers, system participants and service recipients are waiting for the legislative framework with bated breath.
---
Telemedicine Enabled Clinics with Last Mile Healthcare Delivery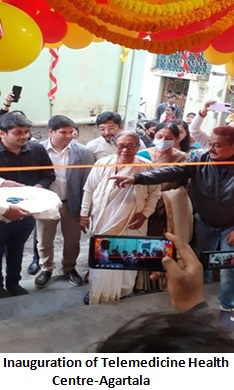 Doorstep Health Services (DHS) along with its Technology Partner- Remassis Solutions-is proud to announce the opening of its first Telemedicine enabled health centre in the North East -at Agartala.
While earlier concentrating around Pune, the dream is to provide accessible responsive care with last mile delivery across India-with a chain of clinics where the nurse is continuously supported by the Doctors on Telemedicine.
The model is a Hub and Spoke model which works under the overall direction of the Enterprise. The Enterprise undertakes forecasting, planning, organizing and such higher management functions. It analyses and evaluated data, creates linkages with secondary and tertiary care, develops training modules, standard treatment guidelines etc. The hub provides doctor consultations and technical support to multiple spokes via telemedicine. The spokes are at the grass roots. The spokes work like health centres and are managed by a Nurse or care giver (if nurse is unavailable). The nurse besides managing the health centre, executes the instructions of the doctor, provides measurements, takes blood for investigation, does ECGs and even conducts home visits for patients who need it.

DHS believes that Telemedicine and last mile healthcare together are the most comprehensive way to provide better health in underserved communities. While telemedicine is important for improving access, responsiveness, retrievability and documentation, last mile health care delivery is crucial for timely initiation of treatment and support in terms of investigations and medication. Last mile delivery also helps provide the human touch which is so important and integral to patient care.

The model works not only in the rural space, but extremely well in urban areas-which also suffers due to lack of primary care. Urban areas have an advantage as lack of infrastructure, human resource, sociocultural mindsets, language, literacy and other such barriers are less encountered here.

We look forward to work with companies, CSR projects, hospitals, and like-minded philanthropists to make our dreams a reality.
For more information about us please visit www.doorstephealth.in or email care@doorstephelth.in
Dr (Gp Capt) Suchitra Mankar
Founder Director
Doorstep health Services, Pune, India.
suchitramankar@gmail.com
---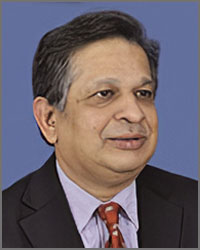 Radio & Marine Telemedicine
(History and Evolution of Telemedicine – 4th Milestone)
Dr. Sunil Shroff, MS, FRCS, Dip. Urol (Lond.)
President, Tamil Nadu Telemedicine Society of India,
Editor, www.medindia.net,
Consultant Urologist & Transplant Surgeon, Madras Medical Mission Hospital, Chennai, India (shroffmed@gmail.com)
In the evolution of telemedicine radio has played a significant role and has had an impact on saving lives of marooned sick marines on ships. For any big development or revolution to happen, there needs to be simultaneous multiple smaller revolutions. Similarly for marine telemedicine to happen the development of radio-telegraphy by Guglielmo Marconi in 1897 was important. This was soon followed by erection of coastal radio stations and the introduction of radio equipment on ships. For more than 100 years several radio medical services have provided and radio signals and Morse code have been used to help the sick.
On January 2, 1911 Captain McGray of the steamer Herman Frasch was stricken with serious ptomaine poisoning. A member of the crew asked the USA naval base 100 miles away to help but his message was received on board the Merida, which was 800 miles away. The surgeon of this ship gave his recommendations, thanks to which the captain was given the correct medicine and recovered quickly. This improvised teleconsultation occurred between the two vessels.
In 1920 Norway, used radio teleconsultations for seamen. Physicians not only made remote diagnoses and recommendations for treatment but also guided complicated surgical operations via Bergen Radio.
On November 3, 1920 Robert Huntington organized the service for radio consultations at sea for crews of merchant vessels. Captain Robert Huntington used to say: "It does not matter, where a vessel can be, after a captain asks for help over the radio, an ill seaman can get the most qualified medical consultation within 13 minutes".
The first license for a radio medical service to ships was issued on November 18, 1920 to the Seamen's Church Institute in New York and this service was called "How to help seamen Needing Medical Help."
The first experience of radio medical assistance from a domestic to an international level occurred in Italy in 1935, with the constitution of the Centro Internazionale Radio Medico (International Radio Medical Centre, CIRM).
In 1958, the International Labor Organization (ILO) issued a Convention requiring all seafaring nations to have a service for radio medical advice to ships. The ILO Convention of 1987 released an important document that states that sailors should have health protection and access to medical care. The ILO Convention of 1987, art. 9 states that: "If one ship does not have a doctor, one or more people should be designated with specific duties and responsibility, such as medical care and administration of drugs as part of their normal functions. 'Moreover, a person responsible for medical assistance on board…, who is not medical doctor', shall have satisfactorily completed a course, theoretical and practical in medical skills, recognized by the competent authority"
Ship-to-shore transmission of electrocardiograms (ECGs) and x-rays was first reported in 1965. Marine telemedicine may offer some solution in providing to cross border telemedicine guidelines in the future.
.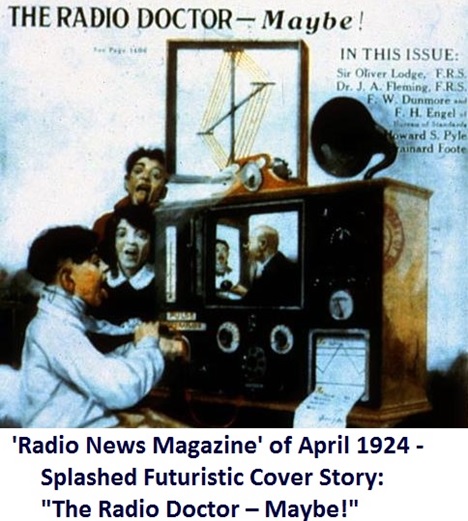 ---
Access the Latest News on Telemedicine and Telehealth
This is another source for the Latest News on Telemedicine and Telehealth that is brought to you by our TSI member Dr. Lavanian Dorairaj.
Each news article is carefully and painstakingly distilled from reliable sources from across the world, by actual human beings. We pride ourselves in providing focused and human-curated news. There are no BOTs or impersonal Algorithms involved here. We put in hours of hard work to ensure that YOU do not have to work hard.
Do visit http://www.telemedicinenews.com for updates.
Telemedicine – News from India & Abroad
India
'Telemedicine can help treat lockdown sleep syndrome'
TNN | Jan 10, 2021, 04.20 AM IST Printed from Chennai: Telemedicine can provide uncompromised care to existing patients and also help identify and manage the onset of new sleep problems, says a new study 'Tele-Sleep Medicine: An Opportunity In A Crisis' conducted by Dr N Ramakrishnan, director, Nithra Institute of Sleep Sciences. It also documents the emergence of 'Lockdown Sleep Syndrome', ie, the onset or worsening of sleep disorders often related to inactivity, fear of the disease, and generalised anxiety caused by the uncertainty of the future….. Read More
Teleradiology Solutions announces reporting volumes and revenue bounce back post pandemic
3 February 2021 BENGALURU, India, Feb. 3, 2021 /PRNewswire/ — Teleradiology Solutions, a leading provider of teleradiology services, reports its volumes, which had seen business shrunk by 80% of pre pandemic volumes, have almost returned to normalcy.….. Read More
International
In-person medical visits waning because of COVID-19 safety concerns
MORGANTOWN — Morgantown's two largest health care providers –WVU Medicine and Mon Health – said people should not be afraid to seek medical treatment because of the pandemic. "If you have a chronic condition, don't put off your care," said Dr. Michael Edmond, WVU Medicine's chief medical officer.….. Read More
Global Telemedicine Market- Industry Analysis and forecast 2027: Product Type, Shape, Operating System, End-Users and Region
Maximize Market Research has recently published a "Global Telemedicine Market 2019 Industry Research Report. It is comprehensive analysis of past and current status Telemedicine Market' with the forecast till 2027. The report covers the past market from 2017 to 2019 and forecast of 2020 to 2027 with key developments, key trends, M&A activities by value and their strategic intents. The report has analysed complex data and presented in simple format to make it easier to understand… Read More
Doctor visits online not expected to end following pandemic
The coronavirus pandemic brought with it a boom of doing things virtually — education, work, happy hours and even routine doctors' visits. While some have returned to in-person school and work days, medical experts told the Dayton Daily News they expect telemedicine will stick around long after the pandemic ends.….. Read More
---
Submission may be sent to – tsigrouptn@gmail.com
Editors reserve the rights for accepting and publishing any submitted material.
TN – TSI invites all the TSI Chapters and Members to submit information on their upcoming Webinar or Events (50 words), News related to Telemedicine (200 words) or short articles (500 words) for the monthly e-newsletter.
Editor in Chief – Dr. Sunil Shroff
Editors – Dr. Senthil Tamilarasan & Dr. Sheila John
Design – Sankara Nethralaya
Technical Partner- www.medindia.net