Telehealth Newsletter
Official Newsletter of Tamil Nadu Chapter of Telemedicine Society of India
TN – TSI invites all the TSI Chapters and Members to submit information on their upcoming Webinar or Events (50 words), News related to Telemedicine (200 words) or short articles (500 words) for the monthly e-newsletter.
In continuation to the Dec2020 issue this issue is covering highlights of a few sessions of The TELEMEDICON 2020

TELEMEDICON2020 – Highlights
'From the Fringes to the Mainstream'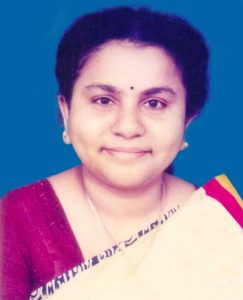 TELEMEDICON2020: Highlights of a Some Sessions
By Dr.Sheila John
The TELEMEDICON 2020, the 16th International Annual Conference of 'Telemedicine Society of India' was conducted from 18th December to 20th December, 2020. This was the first International level Tele-Health conference after the Govt. of India's notification of 'Telemedicine Practice Guidelines' during this ongoing COVID pandemic.
The three-day web conference was organized by the Tamil Nadu, Delhi-NCR, Rajasthan, Maharashtra and Karnataka chapters. The virtual conference attracted over 1200 participants across India and abroad.
The first session was "CME – COVID Pandemic and Telehealth Challenges in India" and was chaired by Dr. Meenu Singh and Mr.Bijoy, and the Moderator was Dr. Umashankar Subramaniam. Dr. Susheel Oommen John discussed "Digital health interventions for COVID19 public health response"; Dr. Naveen C Kumar spoke on the topic of "Mental Health and Telepsychiatry"; and Dr. Anoop Amarnath spoke on "Telemedicine During Covid 19 – The Karnataka Experience." Dr.B.N Mohanty spoke about "Telemedicine Activities in Odisha during Covid-19 Pandemic"; and Dr. Sangeeta Desai spoke about "Coronation of Digital Pathology during Corona pandemic."
The second session examined "CME – Data Breach." The session covered "Cyber Security for doctors – Basic Precautions and how to keep consultations and records secure." The session was split into 2 sections with a 20 minutes section devoted to how and why doctors are targeted, and basic information on "Cyber Security For Doctors."
The second section was chaired by Dr. Krishna Kumar, Dr. Ikramullah and moderated by Mr. Manick Rajendran. The panelists, Cmdr. K. K. Chaudhary, Lt. Col (Dr.) T.K Das, and Mr. Alok Jha discussed on the topics of "Laws and implications on what is relevant for Doctors," "Precautions and how to keep sensitive data and records secure," "Best Practices for Doctors," and "What is "Due Diligence" and how can it help." A third section was a Q & A session open to the audience.
Col. (Dr) Ashvini Goel (Retd ), President Elect spoke about "Telehealth Standards – Work in Progress." Dr. Anup Wadhawan, IAS, Commerce Secretary to the Government of India discussed the merits of "Telemedicine and its Role in Leveraging Healthcare Economy" and "Inauguration of Virtual Exhibition." The session was presided over by Dr. A. K. Singh and Col. (Dr.) Ashvini Goel (Retd.) and moderated by Mr. Vimal Wakhlu.
Dr. S. Prakash, MD at Star Health and Allied Insurance, also spoke on the topic of Health Insurance Reimbursement for Telehealth.
Some international speakers of note were: Prof Thais Russomano (UK), Russomano, Co-Founder & CEO, InnovaSpace UK; Prof. Pramod Gaur (USA), Prof. Pramod Gaur, Pace University (former VP of Telehealth at UnitedHealth), New York, NY; and Mr. Pradeep Goel (Ukraine), CEO Solve.Care.
The sense of urgency created by the COVID-19 pandemic has spurred medical establishments to overhaul their healthcare delivery systems in pursuit of maximizing patient care and minimizing the risk of infection.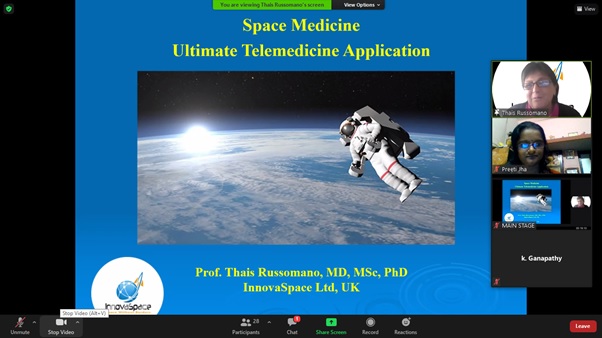 ---
CME on Cyber Security for Doctors and Medical Staff
By Cmdr. K. K. Chaudhary, Lt. Col (Dr.) T.K Das, Mr. Alok Jha
Due to the highly valuable information in medical industry, patient health data (PHD) has become the prime target of hackers. Hackers are continuously trying to breach the defense of hospitals and medical facilities to harvest the information of patients and doctors. As per the statistics, patient health data is sold in Dark Web at 10-20 times the premium of financial data.
Some of the biggest healthcare data breaches of 2020 that forces us to deliberate more seriously on the safety of PHD are
• Inadequate Security, Policies Led to LifeLabs Data Breach of 15M Patients
• Magellan Health breach of 365,000 patients
• Dr Lal PathLabs leaks millions of patients data in public domain
According to Telemedicine Guidelines 2020 – Govt of India "it is doctor's responsibilities to ensuring data privacy, ethics, and maintaining records of all the patients whose records are being collected during medical examination". Similarly Digital Information Security in Healthcare Act (DISHA), which is in draft stage of formation and the personal Data Protection Bill-2019 have placed the onus of security of patient's data on those who store and handle such data.
The relevant part of the amendment is as follows:
3.7.1 Medical Ethics, Data Privacy & Confidentiality: Principles of medical ethics, including professional norms for protecting patient privacy and confidentiality as per IMC Act shall be binding and must be upheld and practiced.
3.7.1.2 Registered Medical Practitioner would be required to fully abide by Indian Medical Council (Professional conduct, Etiquette and Ethics) Regulations, 2002 and with the relevant provisions of the IT Act, Data protection and privacy laws or any applicable rules notified from time to time for protecting patient privacy and confidentiality and regarding the handling and transfer of such personal information regarding the patient.
3.7.1.3 Registered Medical Practitioners will not be held responsible for breach of confidentiality if there is a reasonable evidence to believe that patient's privacy and confidentiality has been compromised by a technology breach or by a person other than RMP. The RMPs should ensure that reasonable degree of care undertaken during hiring such services.
With reference to the above, the speakers highlighted why it is important for doctors to understand the underlying risk of holding PHD.
• Patient data can be stolen, lost or intentionally or un-intentionally transmitted.
• Why custodians of DHD & PII are bound by National (DPDA/DISHA) and International (HIPAA) regulations
• Intent and Pre-emptive action that can help
• For this Awareness about basic digital Hygiene is very important
• Ignorance of underlying technology of Internet
• Connected to Internet-based Health Equipment
Speakers also highlighted various methods/tricks, such as Phishing, Vishing, Mail/Phone spoofing, Social Media Postings, Hacking computers/smartphones and Hacking the Internet-connected equipment.
It was concluded that the only safety for any medical practitioner in case of a data breach happens, is to prove that due diligence was done and all possible care to protect such data were taken by the data custodians. Hence, it is essential that doctors and medical staff must be aware of simple security steps can not only prevent a data breach but also prove 'due diligence' in case of such breaches.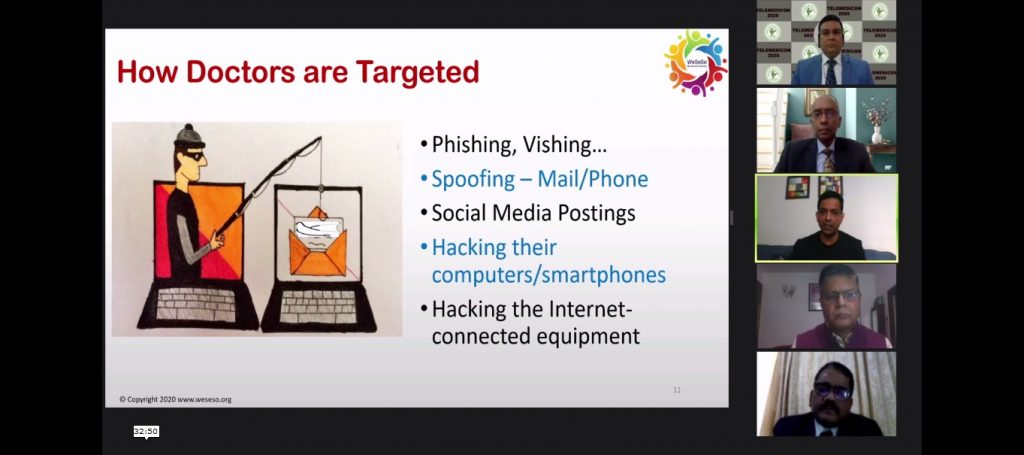 ---
Release of TSI – PRACTO Joint Report on Reinventing Health Care Delivery Telemedicine During the COVID-19 Pandemic
On the 19th Dec a report to provide a glimpse of telehealth consultation during the COVID pandemic was released jointly by Telemedicine Society of India (TSI) and Practo in presence of Maj Gen (Dr) AK Singh, President, Col (Dr) Ashvini Goel (Retd), Dr.Girdhar Gyani, Director General, AHPI, Dr.Vijay Agarwal, President, CAHO and Dr. Alok Roy, Chairman, Medica Group Hospitals
This was a 25 page document and the key Insights included the following:
• Physical appointments went down by 32%
o Visits to secondary care specialists like neurosurgeon, somnologist, cardiologist and oncologist grew dramatically
• 3x increase in the number of people using online consultations
o 26% of the consultations were with GPs, followed by Dermatology (20%) and Gynecology (16%) and others like Gastroenterology, ENT, Pediatrics stood at 7% each
o The fastest-growing health concerns included ophthalmology, ENT, orthopedics, pediatrics and gastroenterology
o Delhi, Mumbai, and Chennai – saw an average of 16x growth in queries for ENT specialization
• Non-metros saw the highest growth of 7x in online consultations, as compared to the same period in the previous year
o During the same period last year, the split between metro:non-metro consultations stood at 75:25. This year, it is 60:40, demonstrating that the number of consultations from non-metro cities is on the rise
o Tier 2+ cities like Manjeri, Arrah, Balasore, Etah, Orai, Khopoli, Jagtial and Shivpuri used telemedicine for the first time in this time period
o Cities like Meerut, Jammu, Srinagar, Nellore, Kochi, Gorakhpur, Kakinada, Tirupati, Bhagalpur, Gaya and Shimoga recorded a 10x growth
• Among metros, Chennai witnessed the highest growth of 4x as compared to the previous year
o Bengaluru, Delhi-NCR, Mumbai, Pune, Hyderabad and Kolkata grew by more than 300% as compared to last year
• More and more elderly people are now getting used to technology
o There was a 502% spike in online consultations from people above the age of 50 during this crisis, who contributed to 12% of overall consultations, as compared to just 5% the previous year
• More women are going online
o Last year the men:women ratio stood at 75:25, while this year it's 68:32
o Gynecologists and General Physicians were two of the most consulted specialists by women in 2020
• Online mental health consultations and queries continued to rise during this period
o There was a 302% increase in overall mental health-related queries
o Women contributed to 33% of overall queries for mental health specialists
• More consultations at late hours
o 25% of online consultations were recorded between 10 pm and 4 am when people are not burdened with work responsibilities
o One of the top specialties consulted during late-night hours was Psychiatry
Preferred day(s) to consult doctors online were Tuesdays, Wednesdays, Saturdays, and Sundays, while Saturdays, Sundays, and Mondays preferred for in-person appointments.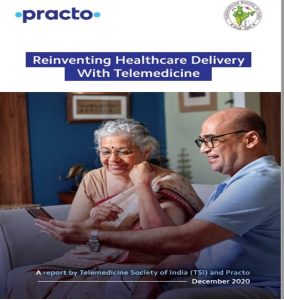 ---
Training for Telemedicine in India for Registered Medical Practitioners – Seminar
By Dr. Sunil Shroff, Ms. Bagmisikha Puhan, Wg Cmdr (Dr) Lavanian Dorairaj (Retd), Mr. Mayank Agarwal, Mr. Manick Rajendran, Dr. Ravi Modalli, Dr. (Gp Capt) Suchitra Mankar, Mr. P Ramkumar
This important session provided an overview of training conducted for registered medical practitioners (RMP's) by Telemedicine Society of India (TSI) after the announcement of the Telemedicine Practice Guidelines (TPG) on 25th March 2020 the Board of Governors in supersession of the Medical Council of India. These Telemedicine Practice Guidelines, were subsequently notified by the government as a gazette on May 14, 2020, as an amendment to the Indian Medical Council. The regulation requires all medical practitioners intending to practice telemedicine in India to take an online course and get certified within three years from the date of notification.
Training of 1.1 million RMP's in India poses a huge challenge and to address the issue of training in telemedicine, a course called "Train to Practice" was designed by the TSI. This project was voluntary efforts by the members of the society though online structured webinars and was helped by a member (Dr.P.Ramkumar) offering his education platform to house the activities. It was announced within two weeks after the TPG was announced . TSI executive body with senior members designed four modules for training of RMP's to get familiar with the guidelines and use it to follow ethical and safe standards of practice of telemedicine as a means to increase their outreach and foster increased access to healthcare.
The candidates had to register and create an account. Once this was done they were expected to take a pre course quiz to assess their knowledge about telehealth. This was followed by 150 minutes of an online face to face course that had four modules and these included –
Module 1: Legal Aspects & Telemedicine
Module 2: Clinical Aspects & Telemedicine
Module 3: Tele-triage & Telemedicine
Module 4: Technical Application & Telemedicine
Each module was delivered as a lecture for about 20 to 30 mins and this was followed by a question answer session. Once the face to face webinar course was over the participants were provided with post course assessment and finally if they obtained 80% marks a certificate of completion of the course was issued. The course also put together FAQs that went through several stage of iterations before being given out to the trainees as a reference document and could be used at any time before they took the online test or afterwards as a reference document. A feedback form was also included at the end of the course.
There were 35 training sessions that were conducted in 6 months from April to Sept 2020. Majority of 80% were offered free (28/35) and a small number or 20% were paid or sponsored sessions (7/35). 2946 candidates took the course. The total time spent for the delivery of the course by the faculty was 142 hours. Four sessions were also undertaken free of cost, to train the Army Medical Corps medical officers and specialists.
The total monetary value of the course was Rs.3.74 Million (or US$ 51,233 ). Most of the course was subsidised and offered free. There were seven paid or sponsored sessions that paid the society Rs. 0.84 Million ( US $ 11,507 ) . The course was subsidised by Rs.2.9 Million ( US $ 39,726 ). The overall rating from the course was 4.7 out of 5.
The training course was the first of its kind course in India and was received enthusiastically by all the doctors who came from different specialities. The level of knowledge on telemedicine was variable and most had some basic understanding of the subject. Most RMP's were not sure if cross state tele-consultations required registration with other states. Most were anxious to understand the legality of telehealth consultations.
Further modules are to be developed in future that would cover common medical specialities that use telemedicine along with a few topics of general interest to include diabetes & telemedicine, Cardiology & Telemedicine, Paediatrics & Telemedicine, Obstetrics – Gynec & Telemedicine, Home-healthcare & Telemedicine, ICU and Telemedicine, Recent Advances & Future of Telemedicine, Legal Cases in Telemedicine and Standards for software and Hardware.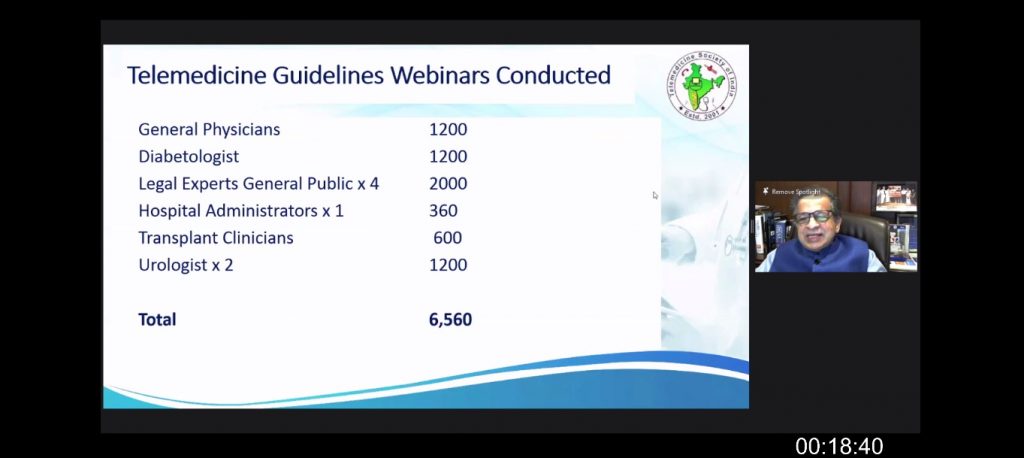 ---
Teleophthalmology Symposium – An overview
By Dr. Sheila John
The COVID-19 pandemic dealt a big blow to the healthcare sector worldwide. With everyone concentrating on managing the pandemic, patients with non-COVID-19 diseases suffered due to a dearth of healthcare access. Previously reserved for underserved areas, tele-health now has become mainstream now because the pandemic has left a vast majority of people remote and underserved.
Dr.R.Kim, Chief Medical Officer, Senior Medical Consultant, Retina & Vitreous Services, Aravind Eye Hospital, Madurai took the podium for the afternoon session of day 1 of the virtual meet. He spoke about the importance of Tele- screening for Retinopathy of Prematurity. Retinopathy of prematurity (ROP) affects developing retinal vessels in premature infants and can lead to severe and irreversible visual loss if left untreated. Screening of the premature babies is the first step in ROP management. In India, tele-screening techniques can bring premature babies from both urban and rural areas into the screening network.
On day 3, the twelfth session featured a symposium on Tele -Ophthalmology (Parallel Session) Dr.R.Kim was the moderator of the session. Dr. Sheila John discussed the topic of "Teleophthalmology to reach the unreached – Mobile Teleophthalmology." The major role in this endeavor is to provide an ophthalmic service to remote rural areas, where people cannot afford to go to a hospital because of unawareness and poverty. In remote rural areas, ophthalmic services are nearly impossible. The teleophthalmology unit can be a very useful tool to improve eye care delivery in rural areas.
Dr. Kim is the director of Arvind's telemedicine network and IT services. He discussed "Teleophthalmology to reach the unreached – The Vision Center Model," In a lot of developing countries, teleophthalmology enables ophthalmologists to provide good eye care to the unserved remote rural and underserved urban populations. Technological innovations through the years have led to advances and teleophthalmology has progressed from a research tool to a clinical tool.
Dr. Padmaja Kumari Rani spoke about 'Teleconsultation experience in the COVID Era." The COVID-19 pandemic dealt a big blow to the healthcare sector worldwide. With everyone concentrating on managing the pandemic, patients with non-COVID-19 diseases suffered due to a dearth of healthcare access. Previously reserved for underserved areas, tele-health has become mainstream now because the pandemic has left a vast majority of people remote and underserved. During the pandemic crisis, there was an almost 500% surge in online consultations from people above the age of 50. Older persons accounted for over 10% of overall consultations, as compared to just 5% the previous year.
Padmashri Prof. Dr. S. Natarajan, is renowned for his skills as a vitreoretinal surgeon, keen academic mind and for his philanthropic initiatives in prevention of blindness. He spoke on the topic of "Offline AI using a Smartphone for Diabetic Retinopathy (DR) Screening. India has pioneered the development and validation of artificial intelligence-based algorithms in DR. Likewise, the study done by AJFTLE has shown promise in the use of an offline AI system in community screening for referable DR with a smartphone-based fundus camera and it is a practical way to provide more patient satisfaction as it saves time and cost.
Dr. Senthil CEO welcare system discussed about the various business models for Teleophthalmology like Teleconsultation, ROP Screening, Diabetic Retinopathy Screening and Tele refraction. Diabetic Retinopathy Screening has been the most successful model and he discussed in detail regarding the implementation and outcomes has been followed by Welcare system. The business model has been implemented at 275 Locations and they have screened more than 12.5 lakh patients.
The keynote on Tele-Ophthalmology was provided by Prof. Mingguang He is Founding Chairman, Asia-Pacific Tele-Ophthalmological Society, Managing Director, and Asia-Pacific Academy of Ophthalmology. Cataract, glaucoma, age-related macular degeneration, diabetic retinopathy, and retinopathy of prematurity are among the common causes of blindness in many countries. The session was moderated by Dr. T. Senthil, Dr. Gunda Srinivas, Dr.Vikas Gaur, and moderated by Mr. Mayank Agarwal.
Teleophthalmology, the branch of telemedicine that delivers eye care through digital medical equipment and telecommunications technology, includes access to eye specialists for patients in remote areas, ophthalmic disease screening, diagnosis and monitoring; as well as distant learning.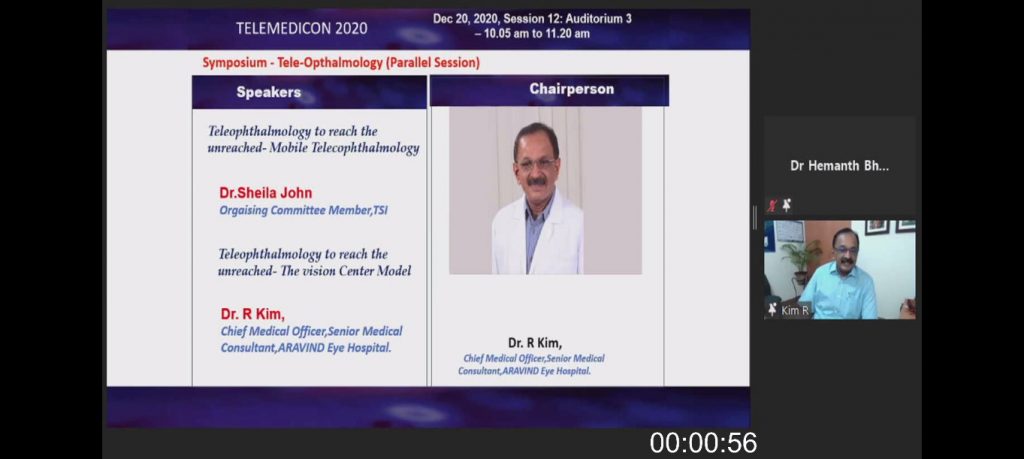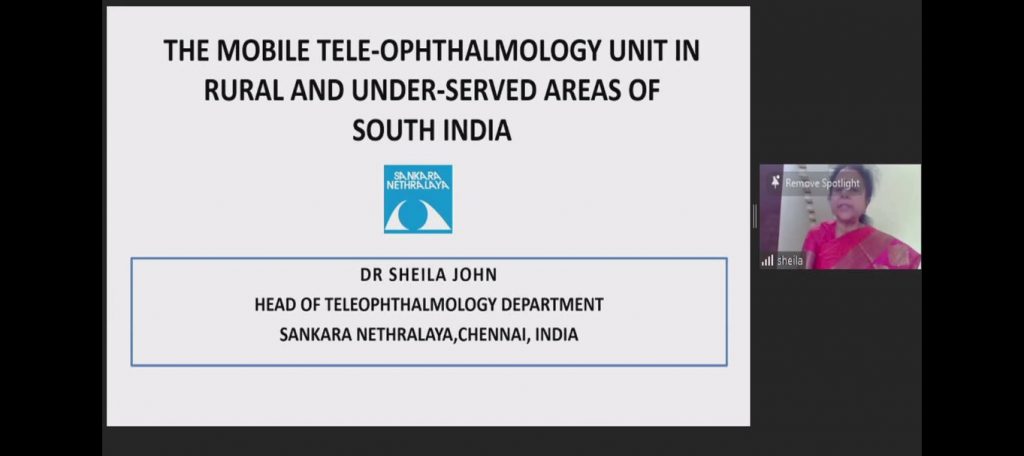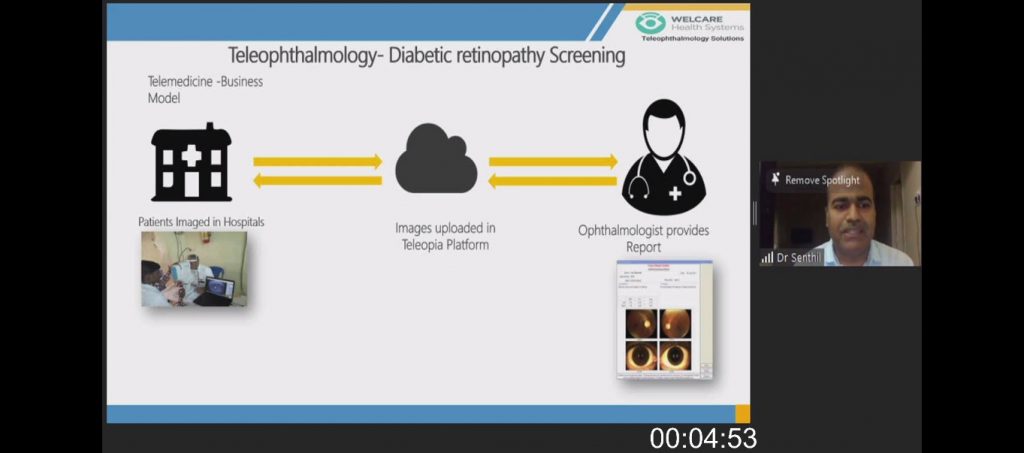 ---
TELEMEDICINE IN DIABETES CARE Symposium
Dr. Jothydev Kesavadev, Dr. Mohan V, Dr. Sanjay Sharma
The first talk by Dr.V.Mohan covered Experience with Telemedicine for Diabetes during Lockdown (COVID-19).
The COVID-19 had played havoc on the health care sector globally. The hurdles imposed by COVID-19 restrictions on health care professionals were discussed among the diabetics especially among the high-risk group of COVID-19: type 1 and type 2 diabetes patients, adults above 65 years of age, people with multiple comorbidities, unstable HbA1c ≥8.5% and smokers.
Telemedicine helped provide a relief for diabetes care.. The study by Dr. Anjana et al on the 'acceptability and utilization of newer technologies and effects of glycemic control in type 2 diabetes: lessons learnt from lockdown' conducted in 3000 subjects summed up the challenges, acceptability and utilization of telemedicine in diabetes patients. Research outcomes highlighted that 82% of the patients who adhered to telemedicine were satisfied with the telemedicine services, out of which 58.1% is interested to continue the telemedicine services in the future. There was a significant improvement in clinical and biochemical parameters in diabetes population during lockdown. During the lockdown, the number of patients performing SMBG increased from 15.5% to 51.3% which led to a significant improvement in glycemic control and other metabolic parameters. Take-home message included:
The challenges imposed by Covid-19 restrictions include lack of motivation to monitor blood glucose, reduced access to lab testing, ineffective implementation of a healthy lifestyle such as improper diet and lack of exercise, insufficient guidance and awareness and spread of fake news and fear which in turn affect their quality of life.

Telemedicine is a proven treatment modality for diabetes care.

Effective implementation of telemedicine can result in a significant improvement in glycemic and other metabolic parameters.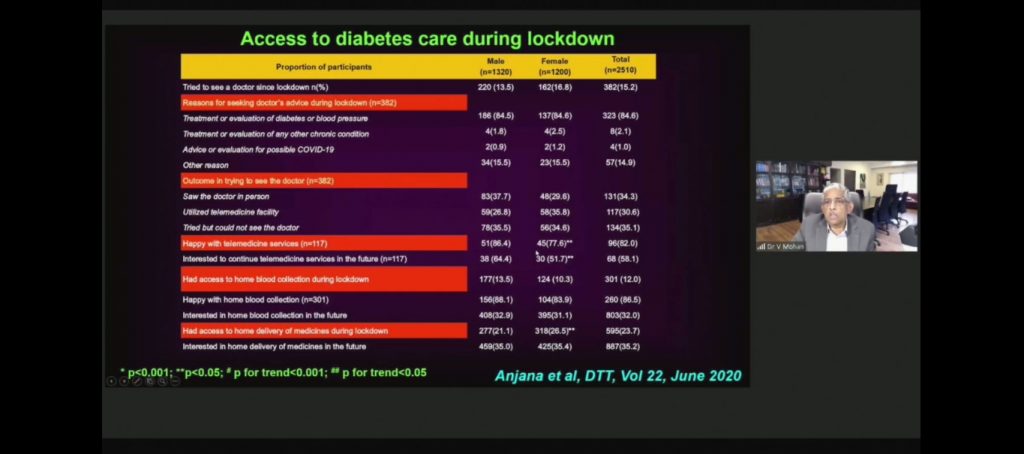 The second talk was on Dr. Jothydev Kesavadev covered 23 Years of Telemedicine Practice in Diabetes its merits and demerits.
Diabetes Tele Management System (DTMS®) was launched in 1997 with an intention to better manage diabetes when the prevailing status of care was disappointing with an average A1c above 9%. By way of successful partnership with technologies, over the next ten years, DTMS® evolved into a decision support system; the major components being electronic medical records, personalized diabetes care and a multidisciplinary team consisting of trained physicians, nurses, dietitians, diabetes educators, pharmacists and psychologists. Telemedicine in diabetes care was not widely accepted due to several challenges which included funding, the reluctance of patients to pay, long duration of consultations etc.
Effective use of telemedicine resulted in more than 86% of the patients successfully reaching the customized targets of A1c, Evidence demonstrated significant reduction in A1c without hypoglycemia, preventing the progression of diabetic kidney disease, sustainable benefits for over 15 years, prevention of microvascular complications, benefits regardless of the geographical location and above all cost-effectiveness.
The key take-home message included:
Diabetes is the most important non-communicable disease where the expensive complications can be successfully averted with the implementation of telemedicine.

Telemedicine in diabetes care will invariably help in reaching targets when conventional therapy is failing in the majority.

Sufficient evidence from India proves the superiority of telemedicine in diabetes over conventional care.

There is a robust reduction in cost and complications. However, hospitals and doctors need to be adequately compensated for their time and services for the sustainability of telemedicine in diabetes.
Third party platforms for telemedicine need to be engaged cautiously due to fear of breach of confidentiality and probable commercial interests.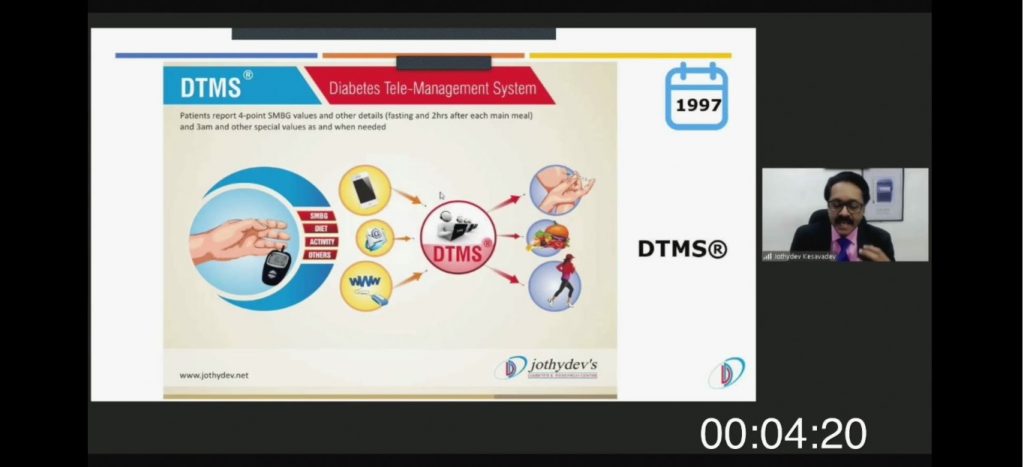 The third talk covered 'Tele Wound Care for Diabetes Foot Ulcer. By Dr. Sanjay Sharma
Tele wound care was critical in India as the statistics reveal that there are 120 million people in more than 60 age group and 1 in 5 has diabetes. Approximately 22 lakh patients have diabetes foot ulcer and about 500 lakhs require wound dressings.
Diabetes foot care is worsened by the unexpected outbreak of COVID-19 which posed logistic and travel challenges and needs special attention as even the slightest negligence may raise the number of leg amputations.
On an average, to heal a chronic wound, it takes 12-28 weeks and may go up to 52 weeks, which ultimately results in 24-84 clinic visits. These numbers emphasize the necessity for implementing tele wound care for diabetes foot care; the advantage being effective utilization of technology to guide patients to manage wounds at their dwelling places.
Development of various apps such as Foot 360 and Wound360 and its integration to existing therapeutic measures paved the way for patients to share the information regarding their wound such as size, nature, associated complications and the images. The challenges in tele wound care in Indian scenario lies in the willingness and perseverance of physicians, patients, and caregivers in accepting the technology, skill of the patient/caregiver, patient's environment at home, nutrition status, family and care support.
Take-home message included:
The effective management of diabetes is possible with the advent of cost-effective technologies.

Diabetes foot ulcer is a major diabetes complication leading to increased number of leg amputations.

Tele wound care and apps support patients and health care professionals to have better treatment outcomes with reduced face-to-face consultations.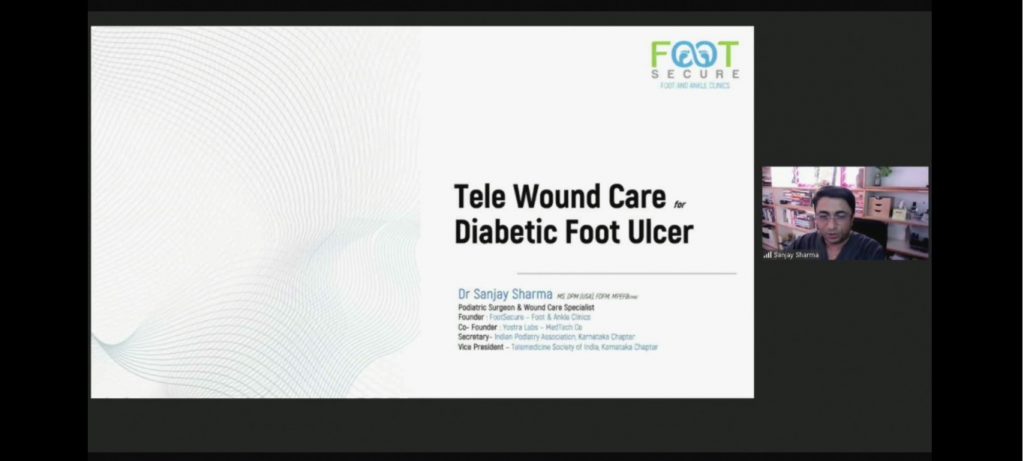 ---
Panel Discussion on DIGITAL AYUSH
By Moderator, Arjun Bhaskaran, Country Manager – India & Middle East, Gamasec, Israel



The panel on Digital AYUSH discussed the possibilities, constraints, way forward for implementing the Telemedicine Guidelines from CCIM, CCH, CCRYNS in AYUSH sector. The key points discussed were:
With the acceptance of Yoga under the United Nations, the potential for providing Telemedicine in Yoga is immense. This along with the wide presence on the NRI diaspora, the potential for accelerating AYUSH telemedicine for NRIs needs to be urgently leveraged.

AYUSH being rooted in Socio, cultural settings can provide low-cost, medical interventions and guidance for 3 million expatriate workers in Middle East in vernacular medium like Ayurveda Telemedicine in Malayalam and Siddha Telemedicine in Tamil to 2 million NRIs in Malaysia, Singapore.

AYUSH Telemedicine could make a strong beginning with AYUSH Medical Colleges as Telemedicine Providers. AYUSH Colleges have experienced Faculty to deliver Telemedicine, as per the guidelines on CCIM, CCH and CCRYNS.

AYUSH PG & UG students are digital-natives who will adopt and evangelize AYUSH telemedicine faster.

With the Insurance Regulatory & Development Authority making it mandatory from April 2020 for all insurance companies to provide 100% coverage in Sum Insured for AYUSH under AROGYA SANJEEVANI Scheme, AYUSH Telemedicine will get a big boost from Insurance. AYUSH Telemedicine can play a key role in achieving Universal Health Coverage.

AYUSH can leapfrog in Telemedicine, EMR as it has very few baggage IT systems.

There is a need for a strong IT Platform run by a Neutral, Credible Market Aggregator to promote AYUSH Telemedicine. Care needs to be taken to ensure adequate visibility is provided in the IT Platform for all credible, experienced AYUSH doctors, all of whom may not be market-savvy or technology-savvy to promote themselves in Social Media.

The panel identified Bangalore, Kerala and Chennai as suitable Telemedicine ecosystems to implement Proof-of-concept Telemedicine practices – Kerala has state-wide acceptance of AYUSH as mainstream medicine, Bangalore has over 10+ AYUSH medical colleges and a vibrant AYUSH clinical practice, Chennai has the strong support of Tamil Nadu Government in promoting Siddha.

The panel recognized that AYUSH Telemedicine should steer clear of COVID19 related controversies and complications.
---
Virtual General Body Meeting of Telemedcine Society of India
For the first time in the ere of new normal Telemedcine Society of India held its meeting virtually. There was enthusistic participation by the offcie bearers and members of the society.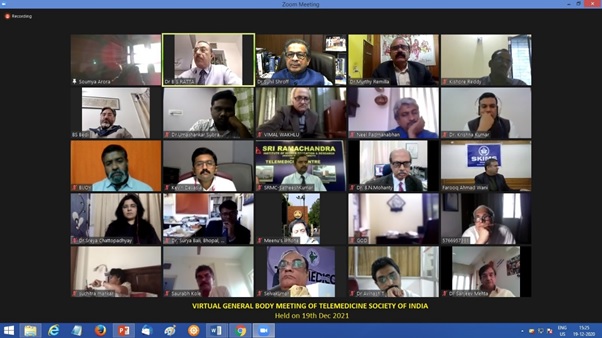 ---
Announcements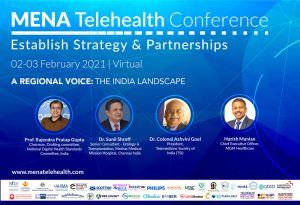 ---
TN – TSI invites all the TSI Chapters and Members to submit information on their upcoming Webinar or Events (50 words), News related to Telemedicine (200 words) or short articles (500 words) for the monthly e-newsletter.
Submission may be sent to – tsigrouptn@gmail.com
Editors reserve the rights for accepting and publishing any submitted material.
Editor in Chief – Dr. Sunil Shroff
Editors – Dr. Senthil Tamilarasan & Dr. Sheila John
Design – Sankara Nethralaya
Technical Partner- www.medindia.net