Click Here to Download PDF Version

Telehealth Newsletter
Official Newsletter of Tamil Nadu Chapter of Telemedicine Society of India
What is New?
This issue does not cover any activity and one reason is that next month we have our annual TELEMEDICON conference coming up at Lucknow in the Hybrid mode. The program is listed in this issue to highlight the conference.
We are carrying our usual monthly features – the medico-legal section, history of telemedicine in India and the popular news items.
We wish all our readers a very happy Diwali. Be safe and be healthy.
Thank You
Dr. Sunil Shroff
Chief Editor
President – TN Chapter – TSI
---
Informed Consent for Telemedicine
Anay Shukla
Founding Partner, Arogya Legal – Health Laws Specialist Law Firm
Eshika Phadke
Associate, Arogya Legal – Health Laws Specialist Law Firm
The developments in the field of information technology have resulted in geographic borders becoming increasingly redundant. Within the healthcare system, this has had a marked impact on the access that patients have to medical care since it is becoming increasingly common for doctors to consult a patient remotely. The Telemedicine Practice Guidelines have re-affirmed that inter-state teleconsultations within India are lawful and permitted…Readmore
---

History of Teleophthalmology at Sankara Nethralaya
Dr. Sheila John
Head of Teleophthalmology and E-Learning Department,
Sankara Nethralaya, Chennai.
Teleophthalmology holds great potential to improve the quality, access, and affordability in health care. For patients, it can reduce the need for travel and provide the access to a super-specialist. Ophthalmology lends itself easily to telemedicine as it is a largely image based diagnosis. The rapid progress achieved in the field of Telecommunications renders Teleophthalmology easily feasible…Readmore
---
17th Annual International Conference (TELEMEDICON2021) of Telemedicine Society of India
The 17th Annual International Conference (TELEMEDICON2021) of Telemedicine Society of India to be held on 12th-14th November, 2021. The theme of the conference is – 'Tele-health Trends in the 21st Century.' This issue of the newsletter carries the program for your perusal. Due to COVID the number of participants who would be physically attending are limited, however it is expected that like the last year there will be an overwhelming response. The sessions for free papers and posters are still open. Do make your submission to make the meeting a success…Readmore
Click here to Register for TELEMEDICON2021
---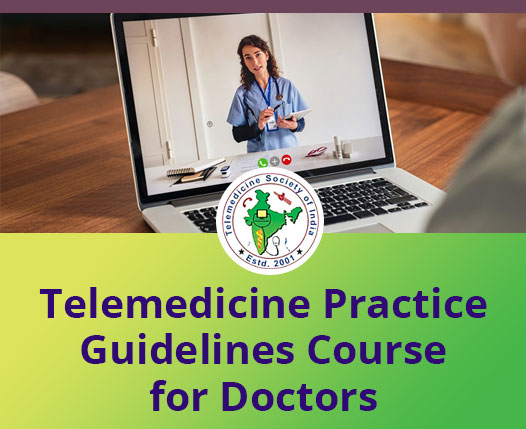 Telemedicine Practice Guidelines – A Foundation Course for RMPs by TSI
To know more about the Telemedicine Foundation Course click on the link below:
https://tsi.org.in/courses/
---
Telemedicine – News from India & Abroad
India
FICCI Healthcare Excellence Award 2021 Bagged by Meenakshi Mission Hospital
Madurai's Meenakshi Mission Hospital & Research Center has secured the 13th edition of FICCI Healthcare Excellence Awards 2021 in the category of Digital Innovation in Healthcare. Introduction of Teladoc Health Robots by the hospital in June 2020 helped confer the award… ReadMore
Partnership aimed at leveraging AI for medical diagnostics: Nivruti Rai, Intel India
Intel on Monday said that it has partnered with IIIT-Hyderabad, Public Health Foundation of India (PHFI) and Telangana government to set up a new 'Applied Artificial Intelligence (AI) Research Centre' for solving challenges in key sectors like healthcare and smart mobility… ReadMore
International
Duke Professor Wins $1 Million Artificial Intelligence Prize, A 'New Nobel'
Cynthia Rudin becomes second recipient of AAAI Squirrel AI Award for pioneering socially responsible AI. She is being cited for "pioneering scientific work in the area of interpretable and transparent AI systems in real-world deployments… ReadMore
AI ALGORITHM ENHANCES ABILITY TO DIAGNOSE HEART FAILURE
Among other things, analysis suggested that the algorithm may be effective at detecting heart weakness in all patients, regardless of race and gender… ReadMore
---
TN – TSI invites all the TSI Chapters and Members to submit information on their upcoming Webinar or Events (50 words), News related to Telemedicine (200 words) or short articles (500 words) for the monthly e-newsletter.
Guidelines for submission to TN TSI Newsletter-
Report can be from 500 to 600 words

Report Should be relevant to Telemedicine or Medical Informatics

No promotion of self or any product

Avoid plagiarism

All references should be included

Provide any attributions

Visuals are welcome including video links

Send full authors name, degrees, affiliations along with a passport sized photograph of good resolution. If multiple authors only main author photo to be sent.
Submission may be sent to – tsigrouptn@gmail.com
Editors reserve the rights for accepting and publishing any submitted material.
Editor in Chief – Dr. Sunil Shroff
Editors – Dr. Senthil Tamilarasan & Dr. Sheila John
Technical Partner- www.medindia.net