History of Teleophthalmology at Sankara Nethralaya
Dr. Sheila John
Head of Teleophthalmology and E-Learning Department,
Sankara Nethralaya, Chennai.
Teleophthalmology holds great potential to improve the quality, access, and affordability in health care. For patients, it can reduce the need for travel and provide the access to a super-specialist. Ophthalmology lends itself easily to telemedicine as it is a largely image based diagnosis. The rapid progress achieved in the field of Telecommunications renders Teleophthalmology easily feasible.
HOW IT BEGAN -2002
A pilot project was started by Sankara Nethralaya, Chennai, linking two of its eye care centers that were separated by a distance of 3 km. A junior ophthalmologist at the distant center examined about 100 patients, and has their medical information transferred to the Sankara Nethralaya main hospital by LAN over a fiber optic cable. After looking at the images, a senior ophthalmologist at Sankara Nethralaya diagnosed and discussed the treatment modalities with the junior consultant.
The next step, which was accomplished in 2002, was to link Sankara Nethralaya Eye Hospital, Chennai, with Sankara Nethralaya Eye Hospital at Bangalore. The Bangalore branch located 400 km away from Chennai is headed by a vitreo-retinal consultant. Patients who required secondary consultations were subjected to routine examinations and their images were captured and sent to Sankara Nethralaya, Chennai.

A unique teleophthalmology project was started in villages within a 100 km radius of Chennai with a mobile bus offering primary eye care. It was inaugurated by the former President of India, Dr. APJ Abdul Kalam, in 2003. The key to the project was a mobile bus, designed by a team from Sankara Nethralaya with assistance from the Indian Space Research organization.
The Mobile teleophthalmology unit has expanded its services all over India.
Rural Mobile Teleophthalmology units in five States of India.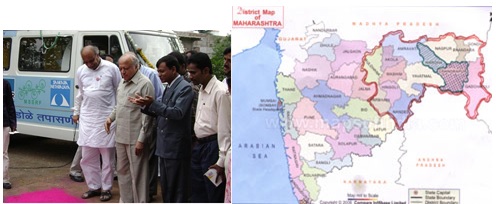 Central Hub- Procedure
The selected patients have their slit lamp anterior segment, diffuse illumination, slit photos, and usually their non-mydriatic fundus photos taken inside the bus. Patients who subsequently have findings in the fundus are dilated and photographs are taken again. Patients who have squint or other extra ocular problems are also photographed with a digital still camera capable of taking external photographs with zoom capability. Telecommunication between rural camp and Sankara Nethralaya, Chennai is achieved by satellite connection through VSAT, which has a bandwidth of 384 Kb/ps. Now presently we are using internet connectivity with bandwidth of 512 kb/ps to 1Mpbs.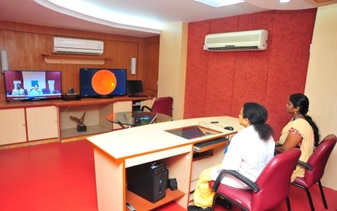 The senior ophthalmologist at Sankara Nethralaya, Chennai examines the images received and comes to a provisional diagnosis. An anterior segment video may be requested in special situations. Demonstration of extra procedures like eye movements may also be requested. The ophthalmologist maintains electronic medical records of all the patients, segregates interesting cases, maintains a file for discussion with peers or seniors, and is involved in the training of fellow ophthalmologists, paramedical ophthalmic assistants, and nursing staff in rural and semi urban areas. During the course of the teleconsultation, the ophthalmologist counsels the patient about familial eye diseases, preventive aspects and eye care.
Expert Opinion and Tele-Continuing Medical Education
Sankara Nethralaya has worked with other hospitals to spread the concept of Teleophthalmology for second opinion for diagnosis of sick patients , this includes the Southern Railways Eye Hospital, Perambur, G P Pant Hospital, Andaman & Nicobar Island , Shri Ganpati Nethralaya, Jalna, Maharashtra, Sri Sankaradeva Nethralaya, Guwahati , Assam and SN, Kolkatta. We are also connected to many institutions through the online mode for -Continuing Medical Education.
Dr. S. S. Badrinath, Chairman of Sankara Nethralaya was the first president of the Telemedicine Society of India.
Presently, the rural mobile teleophthalmology units at Tamilnadu and Kolkata are functioning and have examined more than more six lakh patients. Other units have been transferred to other ophthalmologists in the respective states to implement the program. Due to Covid19 and social distancing, tele counselling and teleconsultations have been implemented for paying patients from April 2020 till date and more than 10,000 patients have benefitted.