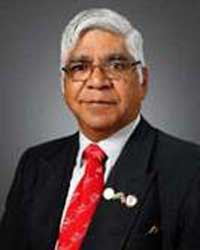 Prof. K. Ganapathy
Former Secretary and Past President Neurological Society of India, Telemedicine Society of India & Indian Society for Stereotactic & Functional Neurosurgery | Hon Distinguished Professor The TamilNadu Dr. MGR Medical University | Member Roster of experts Digital Health WHO | Director, Apollo Telemedicine Networking Foundation & Apollo Tele Health Services | URL: https://kganapathy.in |  EMail: drganapathy@apollohospitals.com
Chronicle of events
Sep 16th 1996 – The compiler of this chronicle delivered an Institute Lecture @ IIT Kanpur at 8pm. . Prof K. Srivathasan then HoD EE introduced him to the word Telemedicine and persuaded him to jointly prepare a project report from 10.30pm to 4am immediately after the lecture !!!.
Nov 1996 – Made a formal proposal along with Prof Srivathsan to Dr P C Reddy, Chairman Apollo Hospitals to do a pilot project @ Apollo Hospital Nellore . Prof Srivathsan and I even chose the room in Nellore !! However it did not fructify . We were too far ahead of the times!
April 1998 – Dr Reddy asked the author if he was still interested in Telemedicine. Ms Sangita Reddy had persuaded ISRO to use a VSAT for Telemedicine purposes @ the new secondary level hospital in the village of Aragonda ( near Chitoor) the birth place of Dr Reddy.
March 24th 2000 – The world's first Teleconsultation from a village hospital thro amn ISRO enabled VSAT was commissioned by the then US president Bill Clinton from Hyderabad in the presence of the then Chief Minister Sri Chandrababu Naidu
In 2001 – Apollo Telemedicine Networking Foundation was formally established as a not for profit Section 25 company. Spoke in the first intercontinental live multipoint telemedicine symposium on June 19 2001. Bill Gates was also a speaker . Initiated teleconferences with, Japan, USA, Saudi Arabia and Hong Kong.
Feb 15 2002 – Apollo SHAR Telemedicine project commissioned by Chairman ISRO . ISRO convinced that Telemedicine was doable and took it up as a major initiative.
April 2002 – Addressed 600 principals of Engineering Colleges @ Anna University on Telemedicine. Subsequently started Telemedicine units in 5 Engineering colleges !!
May 2002 – Assisted ATnKK Area in Southern Command. Indian Army to set up Telemedicine units
2003 – First formal University accredited 4 week certificate course on Telehealth technology was started with Anna University. Featured in Govt of India Documentary India 2.0
2004-05 – Clinically validated Telemedicine enabled peripheral medical devices for IITM start up REMEDI
2005 – VSAT enabled Hospital on Wheels commissioned at Madurai . Became first Treasurer and Joint Secretary of TSI with Reg No 001 ATNF also became first institutional member of TSI
2006 onwards – Evangelisation on mission mode ! Talks given all over India and overseas creating awareness . Large number of VIP's and VVIP's visited the Dept to see Telemedicine in action . ATNF became a member of the Standards Committee on Telemedicine, the National Task Force on Telemedicine, the Working Group on Telemedicine of the Planning Commission, and the SARC Committee.
August 2007 – Assisted Ericsson in demonstrating wireless transmission of heart sounds etc thro 3G for the first time in South Asia
Nov 2007 – International Conference on Telemedicine at Chennai 350 attended including 35 from overseas
2009 – MEA Govt. of India initiated the Pan Africa e-Network project for teleconsultations ATNF was part of the steering Committee and an active participant
2010 – Commenced "Transforming Health Care with IT" international conference held annually till 2019
2010 – Creation of Apollo Telehealth Services Pvt Ltd with a full time CEO and support staff
2011 – eHome Visits initiated in Chennai won Best Post Poster award Washington DC
2012 – 527 patients in 13 different specialities were connected simultaneously to six tertiary Apollo hospitals, from a Hospital on Wheels @ a mega health camp in Ajmer 11th /12th February. A world record then.
2014 – Patient empowerment in rural India – project with MS Swaminathan Research Foundation promoting eHealth Literacy thro internet enabled Village Resource Centers > 26,000 from 13 villages have attended
2015 onwards International Educational Activities with various Management Schools including London School of Economics, Harvard , Columbia etc , Chosen as case study to illustrate Global Best Practices by Columbia University
eICU's 20 smaller ICU's connected to Apollo Hospitals Hyderabad 1200 plus teleICU consults in subspecialities given.
Public Private Partnerships a) Himachal Pradesh . Four Telemedicine Centres in the Himalayas and the world's first 24/7 Tele emergency Services . About 30,000 teleconsults already provided . b) >1.2 million teleconsultations provided under the Mukhyamantri Arogya Kendram (e-UPHC)- project covering 182 Centres from October 2016.c) Jharkhand Digital Dispensaries programme In first 15 months 328,648 patients attended d) Uttar Pradesh Telemedicine programme in the first one year 141,793 patients visited 114 Government Community Health Centres e) Uttar Pradesh Teleradiology PPP program has 127 teleradiology centres in rural UP with 400 images reported daily with turn around time < f 4 hours f) Tele Opthalmology Through 115 existing Community Health Centres / Vision Centres in 13 districts,5 million patients screened in 2 years. Thro Mukhyamantri e-Eye Kendram or MeEK project 405,000 fundus examinations were done remotely by 30 Opthalmologists from Chennai.
2019 Only medical paper presented @ International Conference on Human Spaceflight Programme organised by ISRO.
2021 Since inception over 400 papers have been presented in various regional, national and international meetings held in India and 105 held overseas . Over 180 articles have been published on Telehealth besides 45 in peer-reviewed journals and 12 chapters in textbooks. Several national and international awards have been received.