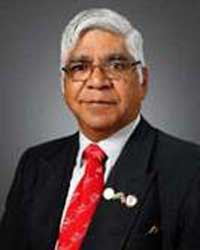 Prof. K. Ganapathy
Past President, Telemedicine Society of India & Neurological Society of India | Hon Distinguished Professor The Tamilnadu Dr MGR Medical University | Emeritus Professor, National Academy of Medical Sciences | Formerly Adjunct Professor IIT Madras & Anna University | Director Apollo Telemedicine Networking Foundation &, Apollo Tele Health Services | URL: www.kganapathy.in
December 10th 2021 is indeed a Red letter day for Indian Telehealth. On this day the ISO 13131-2021, certification for Telehealth Services was obtained for the first time anywhere, by Apollo Telehealth Services . This brief note points out the necessity for raising the bar and setting high standards, so that the world will strive to achieve India class.
For decades, Telemedicine/Telehealth services was not centre stage in the healthcare delivery system. COVID-19 changed this. The world has now accepted that the forced lockdown- enforced acceptance of Remote Health Care will become the new normal even after the pandemic is de notified. Universal acceptance, increases the responsibility of all health care providers deploying technology, to ensure constant high quality while bridging the urban rural health divide.
Quality is never an accident. It is always the result of deliberate intention, sincere effort, intelligent direction and skillful execution. Though Henry Ford opined that quality means doing it right when no one is looking, in the real world this is difficult to implement. ISO certification ensures that "Big Brother" is watching all the time. The necessity for re certification is like the Sword of Damocles hanging above us. However it drives home the message that Quality is everyone's responsibility at all times and not during the audit alone. One has to keep running to stay where you are. To maintain the initial global recognition, maintaining quality needs to become a habit, a unique opportunity to transform one's DNA if necessary!! Success is the sum of small efforts, repeated day-in and day-out. Standardising systems, processes, documentation and re documentation alone will ensure providing quality remote healthcare for anyone, anytime anywhere.
International Organization for Standardization (ISO) – An OVERVIEW
The, International Standards Organization, TC 215 Health Informatics Committee developed a Technical Specification, ISO/TS 13131 Telehealth services, based on a risk and quality management approach. This standard, supports healthcare planning, service and workforce planning, organization responsibilities, financial and IT management. ISO was established in 1947 in Geneva, Switzerland. An Independent, non-governmental international organization it develops standards that are recognized and respected globally. It brings experts together to improve quality and provide world-class healthcare services. Experts are from 166 national standard bodies. ISO standards are developed by various advisory groups. Presently ISO has 255 technical committees, 515 subcommittees, and 2498 working bodies. Since 1947, ISO's technical experts have created more than 18,800 standards for all possible business. ISO standards ensure that administration and product/work flow systems are carried out legally, safely and effectively. ISO technical experts have developed several assessment protocols to ensure that certified organizations apply these guidelines in their workplace. The approved protocols aid organisations to ensure that their frameworks, devices and workforce are actually in compliance with ISO standards. ISO 13131 provides recommendations on guidelines for Telehealth services deploying Information and Communication Technology (ICT) to deliver quality healthcare services.
Implementing ISO/TS 13131 means facilitating cooperation and interoperability of its different health systems to ensure quality telehealth services. It also ensures a reliably high standard of service, irrespective of where a person lives, across the globe. This standard provides guidelines for developing quality plans and managing company resources, while putting the right policies in place to safeguard clients' private data. Securing ISO 9001 for quality management and ISO 27001 for information security management reduces the complexity involved in getting the IOSO 13131 branding. Realising that excellence is always a moving target it was the logical next step in the company's journey to go (to paraphrase Captain Kirk of Star Trek)" where no Man had ever gone before".
The decision to get certified though it was time consuming, labor intensive and expensive was the determination to set a benchmark for the whole telehealth sector. A leading market player faced with competition, the company needed reassurance that its high-quality standards would provide a stamp of recognition and help distinguish it from its competitors. As a pioneer in the field, it was important to set the conditions of competition, to prevent some potentially harmful practices of others, from compromising the reputation of all. Considering the high risks involved in securing patients' data privacy, it was crucial for the organization to be sure it's IT systems and processes were stringent, fulfilled the highest expectations in this sensitive sector and conformed to security legislation.. A preliminary gap analysis was conducted and where ISO/TS 13131 provided more specific criteria than the ones actually in place, these were ear marked for improvement. Consumers draw confidence from the stringent certification process. ISO standards will help organisations comply with new regulatory requirements, enhancing efficiency of internal processes and quality of remote health services provided. Documenting the much needed framework necessary for supply of services, improves value of the product. The more diverse and competitive the market, the more guidance consumers need, to be sure they are purchasing the service they want at the best price. International Standards helps maintain a healthy competition in the marketplace.
We need to identify the right quality metrics, and ensure that the information is readily available to patients, health systems and providers themselves. Consumers should be helped to gauge telehealth providers, and provide healthcare workers/systems with feedback for continuous improvement. Best practices for virtual care need to be standardised, notified and applauded so that it will be increasingly sought after. As the pandemic further disrupts the balance between in-person care and telemedicine, we no longer have the luxury of waiting. The time to define, implement and enforce quality in all aspects of telehealth is not tomorrow but today. Formal certification by an international organisation requires hundred percent fulfilment of stringent criteria. This pre supposes commitment of a very high order and the realisation that excellence is always a moving target. One can never ever rest on one's laurels. We need to keep running to stay where we are.