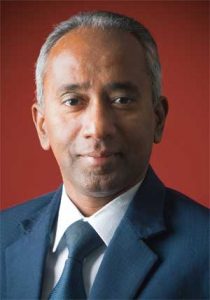 Graduated in 1984 from Anna University as a Mechanical Engineer, Manick Rajendran continued to complete his MBA from IIMB two years later. After a stint with a voluntary agency serving in the villages of Tamil Nadu, owning a franchise with NIIT, he left for the USA to work for EDS. After four years he came back to India for a two-year stay in the mid-nineties to set up his India operations and returned to the USA.
On return to the USA, he took up a corporate opportunity to work with Deutsche Bank. After a seven-year exposure to the insides of Board Rooms and Wall Street, he moved to the Healthcare industry. A successful spin-off and sale of the software company he created, the opportunity enabled him to get involved in the area of Healthcare IT standards. He has served several volunteer hours along with the best in the US healthcare industry as the Co-Chairman of the Admin and Finance Domain Committee of the Healthcare IT Standards Panel (HITSP). He was later tapped to be the Co-Chairman of the Interoperability Tiger Team set up to advice the Obama Administration on Meaningful Use stimulus guidelines.
He co-created and managed the prestigious Interoperability Showcase at the HIMSS Conferences for several years thereby being a major influence among the Healthcare Product (Information Technology and Devices) vendor community.
He also has served as a turnaround specialist by pulling in several US Healthcare billing companies to offshore business processes to his back office Business Process Outsourcing (BPO) unit in India.
After serving as the Director of the Velammal Medical College Hospital and Research Institute, a 2,100-bedded facility in Tamil Nadu, India, taking care of the entire strategy, operations and management of the Group, he continues as an advisor. His focus continues to be on the improvement of people, quality and customer service. He is a Lean Six Sigma Green belt in Healthcare.
Currently, he is the Founder of iMMI Life, a "heart attack advisory" company saving lives of the common person when faced with an imminent danger of losing life due to heart attack. The company has saved over 400 lives and advised about 10,000 cardiac patients.
An avid hiker, amateur astronomer, archer and bicyclist, he continues to trek in the Southern Hills of India even as he uses his photography skills to capture moments of memory, mainly of his temple hunting forays and ISRO displays.