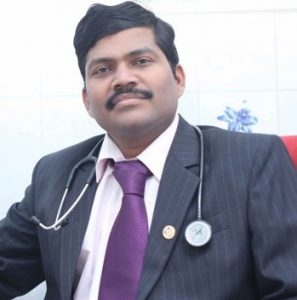 Dr. P Manokar is an Interventional Cardiologist with special interest in Radial, Primary and Structural interventions. He has conducted research in the areas of heart failure and transplant. Primary pulmonary hypertension is his passion. Training, education and team work are his obsessions.
Completed his MBBS and MD (Internal Medicine) at Baroda Medical College, Gujarat. Done his MRCP from UK in 2006 & DM Cardiology at Bombay Hospital, Mumbai in 2007.
Trained by an eminent cardiologist Prof. William Tober Abraham at Ohio State University in Columbus – Ohio, USA in 2009 later became the teaching faculty at Ohio State Univ., USA
Participated more than 140 conferences & workshops at across the country & presented many scientific papers & posters. Also won best paper awards many times. Outside country, travelled to Turkey, Thailand , Malaysia, Korea, Japan, USA, China & Switzerland for international conferences.
Having 12 publications at both national & international peer reviewed indexed journals & principle and co-investigator for 7 clinical drug trials in the last 6 years
Appeared several times in Regional & National Televisions & Radio for public interaction & speech on World Heart Days. Recipient of Dr.APJ Abdul Kalam Award for Excellence in Cardiology
Has been a Fellow in many organizations including
 American College of Cardiology
Asia Pacific Society of Interventional cardiology
 European society of Cardiology
 Royal college of Physicians & Surgeons (Glascow)
Currently he is a Professor of Cardiology at Sri Ramachandra University, Chennai, Tamilnadu.