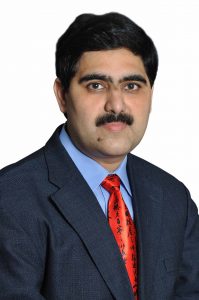 Dr.N.Ramakrishnan is an American Board Certified Specialist in Internal Medicine, Critical Care Medicine & Sleep Medicine and also has a Master's degree in Medical Management from University of Southern California. He is currently the Director of Critical Care Services at Apollo Hospitals, Chennai and is a Senior Consultant in Critical Care and Sleep Medicine. He is also an honorary Adjunct Professor at Tamilnadu Dr. MGR Medical University and Apollo Hospitals Education and Research Foundation.
Dr.Ramakrishnan graduated from Stanley Medical College, Madras and subsequently worked in United Kingdom and USA for over 13 years and returned to India in 2003 as he was keen on 'making a difference'. He has been instrumental in developing Chennai Critical Care Consultants (www.icuconsultants.com), a private practice group of critical care specialists. He was instrumental in establishing the first Tele-ICU in India in 2010 in collaboration with Advanced ICU Care, USA. The team provides real time continuous remote monitoring and support. The group has also successfully established TACT Academy for Clinical Training (www.tact-india.com) which is India's first simulation based healthcare training center and has won award for innovative concept in healthcare education and also listed for this distinction in Limca Book of Records.
Dr. N. Ramakrishnan is the first Board Certified Sleep Specialist to practice in India and established Nithra Institute of Sleep Sciences (www.nithra.com ) in 2004 and is a Past President of Indian Sleep Disorders Association. Nithra Institute of Sleep Sciences has the distinction of being the first institution to offer a post doctoral fellowship in Sleep Medicine affiliated to Tamilnadu Dr. MGR Medical University and also the first sleep center in India to be accredited by National Accreditation Board of Hospitals & Healthcare Organizations (NABH).
He has been honored with fellowship by American College of Physicians, American College of Chest Physicians, American College of Critical Care Medicine, American Academy of Sleep Medicine, Indian College of Critical Care Medicine and Indian Sleep Disorders Association. He has also received prestigious awards including 'Best Doctor Award' from Tamilnadu Dr. MGR Medical University, 'Young Achiever Award' from Vaishnav Group of Institutions and 'Vocational Excellence Award' from Rotary Club.
He is a respected teacher and an invited speaker in several national and international medical conferences and has several original research publications and invited articles to his credit. He has also served Indian College of Crtiical Care Medicine as Vice Chancellor. He has also authored four books in Tamil for the public addressing issues relating to ICU, Sleep and Organ Donation. He has received several honors form medical professional societies and was also invited to meet the honorable president of India, Dr.A.P.J Abdul Kalam who appreciated his contributions in the field of Critical Care & Sleep Medicine.