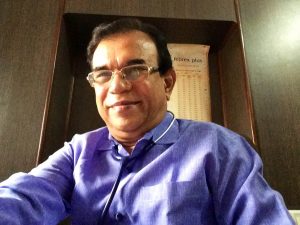 Reg no : 26614    DOB: 08-12-1950
SENIOR PEDIATRICIAN, TELEHEALTH CONSULTANT FRANCHISE TO ATHS APOLLO HOSPITALS CHENNAI FOR ONLINE SERVICES
QUALIFICATIONS:
MBBS from University of Madras. Tamil Nadu, India in 03-06-1975

DCH from University College Dublin Ireland in the year 18-07- 1985.

Wide experience in General Medical practices also

Teaching abilities

Telemedicine Training (Theory and Hands on Training courses from Apollo Hospitals Chennai. India

Life member in TSI (Telemedicine Society of India)

Vice President TNTSI
PRESENT DESIGNATION:
Consultant in Gen.Pediatrics.

Managing Director at Ikram Hospital & E-CLINICS

Online Telehealth consultant.

Vice president TNSI

President IMA Vaniyamabdi branch
WORK EXPERIENCE:

Actively servicing for a total of 32 years in the Medical field.
To start with as a GP for 12 years in India.Then as Pediatrician for 20 years in India and abroad.
SPECIAL SKILLS:
Teaching & Training is my passion,Delivered lectures in CME sessions to IMA

doctors in Telemedicine & Gen.pediatrics .

Presented Long papers in Telehealth State conferences.

Selected to come as Panellist in Tamilnadu Telemedicine conference.

Have done the Event management of (ATH)S Apollo Telehealth Services in colleges as awareness programme in TM

Served for Apollo hospitals Chennai, to spread Telehealth awareness amongst IMA doctors.

Conducted several Free Health Screening camps,

Free Health services at epidemic out breaks of communicable dis.

Real time lecture events to students on Health aspects with special reference Life style Modification in everybody's Life

Franchise for online Telehealth consultations to (ATHS ) Apollo Telehealth services) Apollo Hospitals, Chennai India from 2005 to till date.
LANGUAGES:
Full Proficiency in ENGLISH, communicative and oratory.

Can read write and interpret in URDU TAMIL AND HINDI.

ARABIC have a minimum working knowledge (This I learned from my work experiences in Libya)
LEADERSHIP ACTIVITIES:
Charter secretary for IMA office of mu place,

Served as past president for 12 yrs and more in IMA, branch in India,

During the year 1994 to 1997- 1981 to 1984- 1987-1991 to 1994—




And 2016 to the present date.

Past Treasurer of IAP Indian academy of Pediatrics vellore branch.

Unanimously elected as President to the charity organisation for Orphans at place.

Present Vice President for TNTSI
TREND SETTING ACTIVITIES 
I was the First to establish the Online Telehealth consultation facility, By establishing e-Clinics (Telehealth Consultation Services) in the whole of my district. This caters to the need of both urgent and cold cases of the nearby villages.