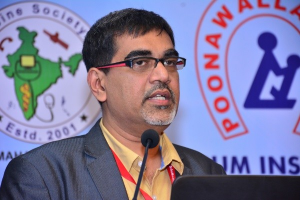 Telemedicine & Tele Education evangelist
Managing Director, A & T Video Networks Pvt. Ltd., a Video Collaboration Specialist
Co Founder, Med.Bot, a first of its kind AI driven Health platform encompassing Telemedicine to Public Health
Member of Executive Committeeof Telemedicine Society of India, Tamil Nadu
Chairman, ICT Task Force, CII, Madurai.
Past Positions as Founder member, Chairman and  President @ 
Internet Users Community of India
Software Industries Development Association
Presentations at various seminars on Telemedicine, Tele ICU, Tele Surgery – 
Telemedicon 2015 Kolkotta, 2016 Bhopal, 2017 Pune, Tel-e-Health 2016 Madurai, Telemedicon 2018
CII seminar series – 2004 – 2005
 Telemedicine Experience
Set up a Telemedicine facility for pilgrims benefit between Tirumala and Tirupathi inaugurated by Late Sri Rajasekhar Reddy, CM of AP.
First Telemedicine project implemented in Indian Railways & in Remote parts of Jharkhand & West Bengal
Organized the first of its kind 11 site LIVE Tele Surgery performance during the 6th International Vascular Surgeons conference including for the first time connecting Sri Lanka and Lahore.